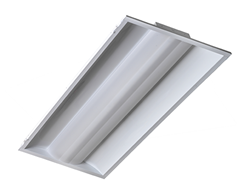 We've developed the TKD as a high-speed kit for high-speed retrofits
Yorba Linda, Calif. (PRWEB) February 27, 2014
An LED conversion kit released today allows building owners and lighting professionals to convert linear, fluorescent troffer lighting to energy-efficient, long-lasting LED lighting. The patent-pending TKD LED troffer conversion kit from Precision-Paragon [P2] maintains or improves light levels while delivering energy-efficient performance of up to 101 lumens per watt.
Fluorescent troffer lighting is commonly installed in offices, educational facilities, retail outlets, health care facilities and many other types of buildings around the country. The TKD LED troffer conversion kit allows building owners to work with a qualified lighting professional to easily upgrade their fluorescent lighting to energy-efficient LED, without the need to replace the entire fixture.
"Many existing LED conversion kits use LED tube lighting," said Russell Price, director of engineering at [P2]. "This can cause a number of issues, including lack of uniformity, decreased longevity and reduced light output. We developed the TKD to overcome these issues."
The TKD LED troffer conversion kit fits in both parabolic and prismatic troffers, and replaces the fluorescent fixture's lamps, ballast and socket bars with a pre-wired LED light engine, complete with a new lens and door assembly. The result is a retrofit kit that offers efficacy of between 93 and 101 lumens per watt, an aesthetically pleasing appearance and light output that can match or exceed the fluorescent lighting it replaces.
"We knew ease of installation was key with a conversion kit," said Joe Martin, [P2] vice president and general manager. "We've developed the TKD as a high-speed kit for high-speed retrofits."
Once it's installed, the TKD will promote long maintenance-free lifespans. The conversion kit is calculated for 70% lumen maintenance at 80,000 hours.
"There are a few reasons to consider a conversion kit instead of a complete replacement," said Martin. "With the TKD, building owners and lighting professionals can get the lower cost, reduced waste and reduced labor of a conversion kit, while still getting the efficiency, quality and lifespan you'd expect from a new fixture."
The TKD is now available to order in a variety of configurations. Interested lighting professionals and business owners can learn more by downloading the fixture's cut sheet at http://www.p-2.com/cutsheet/led/TKD.pdf, watching a video about the fixture at http://youtu.be/_zO6ebytP-k, or calling (714) 386-5550.
---
About Precision-Paragon [P2]: For over 20 years, [P2] has made high-quality, indoor-and-outdoor light fixtures for a wide range of applications in retail, commercial and industrial spaces. [P2]'s energy-efficient lighting drastically cuts energy consumption, creating big cost savings and significant environmental benefits.
Over the last two decades, [P2] has earned a reputation for going the extra distance in customer support by producing high-quality, American-made products. [P2] products are manufactured in Hudson, Wis. and at the company's headquarters in Yorba Linda, Calif..
Website: http://www.p-2.com