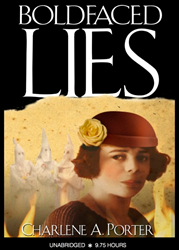 Charlene A. Porter began her writing career at the recommendation of Alex Haley.
Evergreen, Colorado (PRWEB) February 28, 2014
Brook Forest Voices (BFV) audiobook producer and publisher is set to begin production of the widely acclaimed "Boldfaced Lies" by Charlene A. Porter pending casting of a gifted narrator.
Charlene A. Porter, who began her writing career at the recommendation of Alex Haley ("Roots", "The Autobiography of Malcom X"), has written a riveting story about a disturbing yet true chapter in our nation's history. Spanning a period from the end of the Civil War up through the 1920s, "Boldfaced Lies" follows the story of Margaret Browne, the wife of a ruthless and ambitious Klan leader. When her father reveals a family secret buried for generations, Margaret pieces together the shards of her past and learns she is living the deadliest secret of all.
The narrator chosen will face the challenge of creating characters as diverse as Civil War slaves to respected businessmen by day and Ku Klux Klan leaders by night. "Charlene's experience as a screenwriter for two award-winning NBC docudramas has served her well and BFV is looking forward to the challenge of bringing this story to life in the form of an audiobook," stated Diana Andrade, President of BFV.
About Brook Forest Voices: a complete audio production studio located just west of Denver in Evergreen, CO, specializing in audiobook narration, production and publishing. BFV is designed to help large and small publishers, as well as authors, with all their audio needs. Publishers and authors wanting to learn more can visit http://www.brookforestvoices.com or contact Jaime Andrade, BFV Business Manager at 303-670-4145.