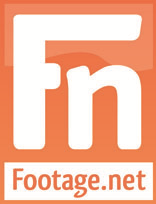 Our stock footage partner companies are integral to our service, so it makes enormous sense for them to be a part of our NAB exhibit, giving NAB attendees a chance to learn more about these great collections first hand.
New York, NY (PRWEB) February 27, 2014
Footage.net, the world's premier online resource for stock footage search and discovery, will spotlight a number of its key stock footage partner companies as part of its exhibit at NAB, set to take place on April 7 -10, 2014. As a resource to creatives worldwide, Footage.net will be on hand to meet with NAB attendees, answer questions about finding and using the world's best stock footage source material and provide an introduction to the outstanding footage collections available for search and screening through its website.
"Footage.net exists to help creative professionals discover and obtain the best motion content from the world's top footage companies quickly and easily from a single site," said David Seevers, Footage.net Chief Marketing Officer. "Our stock footage partner companies are integral to our service, so it makes enormous sense for them to be a part of our NAB exhibit, giving NAB attendees a chance to learn more about these great collections first hand."
The stock footage companies featured in Footage.net's upcoming NAB exhibit (Booth #SL8724) represent some of the key footage categories available for search and screening through Footage.net, including television news, premium stock footage, archival footage, sports and music performance. The current line-up includes ABCNEWS VideoSource, AP Archive, FootageBank, Global ImageWorks, HBO Archives, INA, NBCUniversal Archives, Reelin' In the Years and WPA Film Library.
"When users search for footage at Footage.net, they are searching over 40 of the world's most prestigious stock and archival footage collections," said David Seevers. "So giving users a deeper understanding of these fantastic resources enables them to more fully utilize our site."
Featured Partners
ABCNEWS VideoSource is the content licensing division for ABC NEWS. The VideoSource collection spans from 1896 to the present and includes the collections of ABCNEWS, British Movietone News and HD aerials from Helinet.
AP Archive, the film and video archive of the Associated Press, is one of the most comprehensive collections in the world, containing more than 70,000 hours of footage dating to the beginning of the 20th century. AP Archive offers footage from the AP, as well as such other important television news agency collections as WTN and UPITN.
FootageBank took the lead in large format stock clip licensing over a decade ago and now takes the lead again in licensing fully released location content for scripted programming. With over 100,000 clips available online to search, preview & download, FootageBank is committed to representing high-value footage creators, and preserving and promoting value in clip licensing.
Global ImageWorks is a full service company providing stock footage library sales, research and rights management services. Global ImageWorks (GIW) represents footage from award winning filmmakers, cinematographers, correspondents and production companies. The GIW archive contains both deep content and stock shots. Formats include film, HD, SD, RED and a growing collection of 3-D material. GIW also represents specialized collections such as the iconic television show, Soul Train (1971-2006), with over 1100 hours of outstanding music programming and Omnibus, the golden age of television cultural arts series (1952-1961).
The HBO Archives footage collection is wide-ranging, culled from images shot around the world by HBO producers and DP's over three decades. Their diverse portfolio includes sports coverage, drawing on one of the world's most significant boxing collections, archival footage, contemporary stock footage, wildlife imagery and entertainment news. HBO Archives also licenses footage from The March of Time newsreel series, Crusade in the Pacific, Time Life Film documentaries and much more. Many titles are available in HD.
INA is now one of the largest footage sources in the world. Bringing together and conserving the images and sounds which underpin our collective memory, giving them meaning and sharing them with as many people as possible: this has been INA's primary mission since 1974. For their professional clients (producers, broadcasters, publishers, companies, ad agencies, etc.), the Inamediapro website provides free and immediate access to over one million hours of digitized video and audio treasures spanning a century of modern and international history. Science, Art, Sport, News & Factual, History, Environment... INA's content includes exciting collections added daily.
NBCUniversal Archives offers content from NBC News (with MSNBC and NBC local stations), NBC Sports, Telemundo, The Weather Channel, and NBC Radio. The NBC News Archives is the oldest TV news collection in the US dating back to the first NBC nightly news program in 1948. It is the leading source for US news footage with unprecedented access to world leaders and celebrities, exclusive coverage of world events and greater availability of local news stories.
Reelin' In The Years Productions is the world's largest library of music footage representing over 40 television and film archives from around the globe, with over 20,000 hours from the last 60 years available for license in all forms of media. They also represent The Merv Griffin Show, which ran daily from 1965 to 1986. Acknowledged as one of the premier talk shows in the history of television, the archive features over 2,000 hours of in-depth interviews with over 5,000 guests including many of the most important names in the fields of music, television, film, politics, sports, comedy, fashion and literature.
WPA Film Library serves all areas of the media community, supplying high-quality footage on topics as diverse as history, pop culture, politics, celebrities, landmarks, home movies, Americana and more. Highlights include the entire British Pathe Newsreel Library, WETA's coverage of political events from Watergate to Whitewater, over 6,500 exclusive rock'n'roll, soul and classic country music performances, a growing HD collection, historic auto racing and beautiful underwater wildlife. WPA Film Library offers 24-hour ecommerce and clips that are ready to view online.
The Footage.net exhibit will be located at the Las Vegas Convention Center, Lower South Hall, Booth #SL8724.
About Footage.net
Footage.net is the world's premier online resource for stock footage research. Since 1994, Footage.net has focused on meeting the needs of both footage users and footage providers. Today, Footage.net remains committed to helping users find the best footage as quickly and easily as possible; generating new leads and licensing opportunities for our member archives; and strengthening the footage licensing industry as a whole. Our dedicated footage search engine makes it easy for creative professionals to search 40 world-class footage collections simultaneously and view over three million clips, many of which are available for download. Our Global Search partners include some of the best-known companies in the stock footage industry, including Getty Images, FootageBank, Framepool, Historic Films and NBC News Archives, as well as some exciting new specialist collections, such as Skyworks, Critical Past and Celebrity Footage. Footage.net is also home to the Zap Email, used every day by creative professionals to send footage requests instantly to over 50 top footage providers.