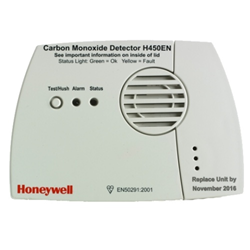 Chillicothe, Ohio (PRWEB) February 27, 2014
Smoke alarms are now required in new homes and most homeowners have complied with this standard, but there is another danger just as serious that is often ignored. Carbon monoxide poisoning is a growing, serious concern and has the potential to lead to fatal consequences. The threat is greater in the cold months when gas heaters, as well as other types of heaters, are being used to heat homes.
Carbon monoxide is an odorless, colorless gas that can seep into homes without being detected until it is too late, according to the EPA. Recent reports of people getting sick and of fatalities in hotels due to carbon monoxide poisoning have made people question if hotels should be required to have detectors. Whether it is a requirement or not, a small investment could save lives and should be considered a priority for any homeowners who use a gas furnace, have gas appliances, or who use fireplaces or wooden stoves to heat their homes.
The threat of carbon monoxide can be reduced through the proper use of gas appliances and through proper maintenance of furnaces, stoves, and fireplaces. Schedule routine maintenance and heater repair in Chillicothe OH at the first sign of issue. A broken heater is a greater risk that a leak will occur. Headaches, dizziness, and nausea are all signs of carbon monoxide poisoning, but if the leak occurs while the individual is sleeping, there may be no noticeable symptoms, and exposure can lead to death. Carbon monoxide detectors should be installed by the bedrooms in the home and near the heating source. Carbon monoxide detectors do need to be replaced every few years, so homeowners should check the lifespan and replace when necessary.
About Ohio Home Comfort
Carrier Factory Authorized Dealers at Ohio Home Comfort are trained and certified to repair all makes and models of air conditioners, furnaces, humidifiers, air cleaners, and many other heating and cooling products.
Resource: http://www.epa.gov/iaq/co.html