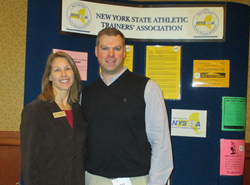 We - ATs and family physicians - can greatly benefit one-another as healthcare professionals and athletes at all levels of participation by working together to provide our patients the best care possible.
Lake Placid, NY (PRWEB) February 27, 2014
After successful involvement in the New York State Academy of Family Physicians (NYSAFP) Winter Weekend and Scientific Assembly last year, NYSATA was again invited by Planning Committee Chair, Jason Matuszak, MD (Excelsior Orthopaedics, Buffalo, NY), to participate in the 2014 Conference, which was held January 23-26 in Lake Placid, NY. Rick Zappala, MS, ATC (Paul D Schreiber HS, Port Washington) was again the athletic training representative on the Sports Medicine planning committee.
On Friday, January 24th, Rick Knizek, MS, ATC (Shenendehowa HS East, Clifton Park, NY) presented on the NYS concussions legislation – the 'Concussion Management and Awareness Act,' effective July 1, 2012, and corresponding NYSED 'Guidelines for Concussion Management in the School Setting' – to a standing-room-only group of family physicians and medical students. His presentation was part of a Sports Medicine session focused on Head, ENT, and Cardio-Pulmonary issues with co-presenters Andrew Getzin, MD (Cayuga Medical Center Sports Medicine, Ithaca, NY) and Robert Strominger, MD (Cayuga Medical Center ENT - Head and Neck Surgery Associates, Ithaca, NY).
"The physicians in attendance were very engaged in the concussion management information that was presented. I was asked some great questions and received many compliments from those who learned – some for the first time - about the most current concussion management guidelines and school district policies that were presented," Knizek stated. "Some physicians even commented that, had it not been for the concussion management session during the conference, they would not have known about the NYS concussion legislation and what it entailed. This is a definitive testament to the discussion that many general practitioners in NYS are in need of this kind of education and how we, as ATs, can be a good resource for them in the area of concussions and other sports-safety information."
The following day, Knizek then assisted in another Sports Medicine session focused on the musculoskeletal evaluation of the shoulder. Following a presentation by Dr. Getzin, physicians attending the session were divided into groups to review and practice a complete physical examination of the shoulder, including various special tests used for injury assessment. Knizek, along with a number of orthopaedic surgeons, were tasked to lead the groups, further explaining and demonstrating skills as needed.
"The NYSAFP Conference provided us a great opportunity to demonstrate our skill set as athletic trainers (ATs) and to show how we are valued health care providers for athletic and active populations," continued Knizek. "We can greatly benefit one-another as healthcare professionals and athletes at all levels of participation by working together to provide our patients the best care possible."
In addition to planning assistance and presenting, NYSATA also hosted an exhibit booth during the conference to further network with NYSAFP members and conference attendees. NYSATA President, Deanna Errico, PT, DPT, ATC managed the booth with assistance from Knizek and Andy Donatello, MS, ATC, CSCS (Northwood School, Lake Placid, NY). They helped answer further questions and distribute information regarding concussion management, athletic training, and the current legislative bills - S4465 (R-Grisanti) and A6678 (D-Lavine) - to update the practice act for athletic trainers in NYS.
Aside from involvement in the conference, the NYSAFP also reached out to NYSATA for an athletic trainer to write an article on concussion management for their quarterly publication. Subsequently, Lauren J. Stephenson, MA, ATC, Interim Clinical Coordinator and Clinical Assistant Professor in the Stony Brook University Athletic Training Education Program (ATEP), published "Concussion Management & Awareness: Making Return to Sport Safer for Young Athletes" in the Winter 2014 issue of the NYSAFP's 'Family Doctor' (Volume 2, Number 3, pgs. 11-14).
NYSATA, founded in 1976 and incorporated in 1989, stands to advance, encourage and improve the profession of athletic training (AT) by developing the common interests of its membership for the purpose of enhancing the quality of healthcare for the physically active in NYS. Athletic training is practiced by certified athletic trainers (ATs), who have expertise in the assessment, emergency management, rehabilitation and prevention of acute and chronic sport-related injuries, illnesses and conditions, including concussions. Comprised of over 1,200 certified and practicing athletic trainers, NYSATA is the state-wide affiliate of the regional EATA and District Two of the NATA.