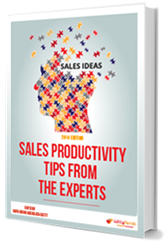 "Winner of the 2013 The Top Sales World, Sales Productivity Startup of the Year, WittyParrot is a disruptive force in the sales enablement and intelligent content delivery categories." - Jonathan Farrington, CEO Top Sales World
San Francisco, CA (PRWEB) February 27, 2014
WittyParrot's third eBook is a collection of ideas and insights from 25 thought leaders in sales, marketing and sales enablement.
Each thought leader was asked to contribute an article of between 400-700 words that was actionable and addressed a current sales productivity issue that is current now and will be relevant next year.
The result is 100 page eBook with contributions from luminaries like David Meerman Scott, on "Newsjacking leads directly into your pipeline", Mike Bosworth on "How to End a Sales Slump with Storytelling", Dave Kurlan on "Living in your CRM" and more.
This eBook follows the previous two eBooks namely:
Building Highly Responsive Sales Teams
Sales and Marketing Alignment eBook
WittyParrot strives to create and share insights via it's blog (more than 80 insightful articles in less than four months) and thought-leading eBooks.
The new ebook will be available in .pdf and popular eReader formats. You can download the Sales Productivity Tips from the Experts.
"Winner of the 2013 The Top Sales World, Sales Productivity Startup of the Year and Silver Medal winner in the Top Sales Productivity Tool, awarded in December 2013, WittyParrot is emerging as a disruptive force in the sales enablement and intelligent content delivery categories," stated Jonathan Farrington, CEO of top Sales World.
Download the Sales Productivity Tips from the Experts eBook.
About WittyParrot
WittyParrot is a platform for creating reusable content components and delivering them via a drag and drop Widget or API to any device or application to improve productivity, message consistency and speed of response.
Salespeople love it because they can easily capture and reuse personal information, and share their own best solicitation emails and followup letters with colleagues.
Marketers and sales enablement professionals love it as it lets salespeople instantly access the latest version of sales and marketing content and adapt it for their context, while preserving the value message.