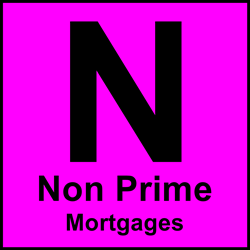 Non Prime Mortgage Lenders can be found at www.MortgageElements.com
Chicago, IL (PRWEB) February 27, 2014
The Daily Herald recently ran an article, "Subprime Mortgages Make a Comeback as Nonprime". Although some people might say "Here we go again", others contend that the Non Prime Mortgages of 2014 are very different from the Subprime loans of 2006. One reason is the CFPB (Consumer Finance Protection Bureau) last month implemented new regulations that permanently bans many of the toxic features of the old Subprime loans. Proponents of Non Prime are quick to point out that today's Non Prime mortgage programs are very different and much safer for both the borrower and lender.
Are today's Non Prime loans just Subprime loans in disguise or are they really different? That's a legitimate question and real concern. Both programs offer loans to people who can't get a prime loan typically due to marginal or bad credit. Both programs charge higher interest rates than prime loans. They certainly look the same. However, the most prominent aspect differentiating Non Prime from Subprime is the CFPB regulations permanently banning many of the features and practices of old Subprime lending. Last month the CFPB introduced the "Ability to Repay" rule and "Full Documentation" rule. These two rules apply to ALL mortgages and require the lender to verify and document the borrower's ability to repay the loan. If the lender violates these rules and the loan goes into default, there are stiff consequences with hefty penalties and substantial monetary damages owed the borrower. Gone are the days of No Doc loans where income and assets were only written on an application without being verified or documented.
Proponents of Non Prime lending reference the thousands of potential homebuyers that have been locked out of home buying due to past credit issues. These buyers are precluded from purchasing a home even though they have a hefty down payment and stable income which allows them to afford the monthly payment. Unlike the past, today these borrowers must ante up a substantial down payment - typically 30% and provide copious documentation proving they have income to meet their mortgage obligations. The documentation may be onerous and the process difficult but borrowers will have the opportunity to purchase a home they couldn't obtain with a Conventional, FHA or VA mortgage.
Currently, there is also not much interest from investors to buy securities backed by Non Prime loans. Many investors got seriously burned by Subprime securities during the Financial Crisis and their wounds are still healing. Until investors show more interest, bundling of these loans into securities is not yet viable. This will limit the amount of funds available for Non Prime loans and lending will remain limited to select lenders. Non Prime lenders can be found at http://www.MortgageElements.com. Mortgage Elements maintains one of the largest databases of Wholesale and Correspondent lenders. Mortgage Elements database can be accessed for free by mortgage professionals to find lenders and research their loan programs. As you can expect, many mortgage professionals and regulators are carefully watching this sector as it slowly develops.
About Mortgage Elements Inc.
Mortgage Elements Inc. is an internet marketing company that provides marketing, database, search, and consulting solutions for the mortgage industry through its website http://www.MortgageElements.com. The company uses a unique website design optimized for touch screen technology and use on mobile devices, desktop, and laptop computers. Mortgage Elements is a B2B company for the mortgage industry and not a lender.