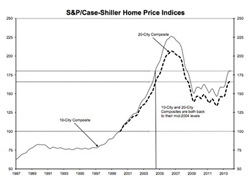 Chicago had its highest year-over-year since December 1988.
Chicago, IL (PRWEB) February 26, 2014
On Tuesday, February 25th, the S&P/Case-Shiller Home Price Indices for December 2013 were released on spindices.com. December 2013. A leading measure of U.S. home prices, the indices gather monthly, quarterly, and yearly information from 20 large U.S. metropolitan areas. This information is posted on the last Tuesday of each month. The index released Tuesday the 25th showed that home prices were up 11.3 percent to close out the year, although prices fell slightly in December from the previous month. To quote an S&P Dow Jones released titled "Home Prices Lose Momentum According to the S&P/Case-Shiller Home Price Indices" on February 25th, "As of the fourth quarter of 2013, average home prices across the United States are back to their levels posted in the spring of 2004."
Six metro areas did see prices rise in December from November: Dallas, Las Vegas, Miami, San Francisco, Tampa, and Washington. CF Funding is happy to see home equity rising in these large metropolitan areas. The Chicago area did see a slight decrease of .5 percent, however, this is a large improvement from the previous month's 1.2 percent decline. The largest increases in home prices were seen in Miami, with a .9 percent increase, and Las Vegas, with a 0.4 percent increase.
CF Funding is happy to share that all 20 cities measured in the indices had positive year-over-year increases. Three cities had gains over 20 percent: Las Vegas, Los Angeles, and San Francisco. Chicago had its highest year-over-year since December 1988, and Dallas had its largest annual gain since 2000.
David M. Blitzer, Chairman of the Index Committee at S&P Dow Jones Indices said in the February 25th commentary that, "The S&P/Case-Shiller Home Price Index ended its best year since 2005… however, gains are slowing from month-to-month and the strongest part of the recovery in home values may be over." CF Funding hopes this is not the case, and expects to see the economy continue to improve in 2014. As the lender has mentioned previously, winter weather has inhibited the growth of home sales, and as the weather improves, the housing market should see some improvement.
The chart from the S&P/Case-Shiller press release shows home price indices dating back to 1987. Notice prices dripped drastically around 2006 and are now returning to 2004 levels.
Home prices are expected to continue to rise this year, and many homebuyers are locking in low prices and great rates while they are still available. Those who are interested in buying a home should consider a pre-approval with CF Funding, as this step can significantly expedite the homebuying process.
For more information visit http://www.cffunding.com.