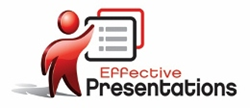 The most precious things in speech are the pauses. ~ Sir Ralph Richardson
Lakewood, CO (PRWEB) March 11, 2014
It was in 2004 that Mike Fruciano, a 25-year sales veteran in the transportation and insurance industries, first conceptualized a firm that would ultimately revolutionize the way presentations were delivered in boardrooms and sales offices across the country. A decade later, Effective Presentations has become a leader in public speaking and presentation skills training, and they're now turning to video marketing to expand their market presence.
Specifically, the Lakewood-based presentation skills training company has launched a new YouTube video which employs humor to punctuate the ineffectiveness of most presentations.
"Social media is where we need to be," says Fruciano, "so it seemed like a perfect fit to put together a short YouTube video highlighting what's wrong with the boring, stagnant business presentations we've all had to endure and showcase how Effective Presentations' training will boost your bottom line."
In this short - but lively video, Fruciano points out that "fundamental, easily learned presentation skills continue to be missing from the majority of presentations in the marketplace. It's simply not something people expend adequate time and energy to develop, when in reality effective communication skills are the most important asset executives are looking for when hiring – and promoting!
Public speaking and presentation skills are critical in today's business world," Fruciano says. "Knowing how to connect with an audience can literally make or break a deal. Too many people quickly throw together mediocre presentations with very little thought or preparation, and just as I point out in the video, you wouldn't fly a plane without first taking flying lessons. Public speaking is a skill that needs to be learned and practiced."
Fruciano points out that it's not just professionals in the boardroom that benefit from his company's workshops, but anyone who interacts with the public, whether that's a salesperson or a volunteer for the PTA. "Everyone needs to be able to communicate effectively. Once you understand your audience and what motivates them to listen to you, you can prepare and deliver a message that connects with them. This is exactly what we focus on in our presentations skills training workshops."
Fortune 500 companies in every industry, from banking and finance to biotechnology and engineering, insurance and pharmaceutical to manufacturing and construction, and arts and entertainment to health and fitness, have called upon Effective Presentations to train, motivate, and inspire their staff. In addition to its public speaking and presentations skills workshops, Effective Presentations represents a Who's Who roster of keynote speakers. Among them are Denver Bronco's alumni, Olympic athletes, authors, celebrities, and entrepreneurs.
"We're a pretty diverse company and we're always growing and developing new and exciting ways to better serve our clients," Fruciano says. "The first 10 years have been very exciting for us. I'm definitely looking forward to the next 10 - and beyond."
The company also recently added a video production division, Extreme Video Marketing, and now works closely with forward-thinking organizations intent on boosting their market presence and conversions through video marketing.
For more information on Effective Presentations' full complement of services, or to sign up for one of its powerful presentations skills training courses, visit effectivepresentations.com.