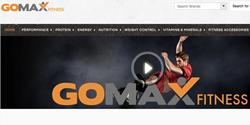 GoMax Fitness' videos are powered by Cinsay, the leader in social video eCommerce, and enable viewers to watch, shop and share on their computers, tablets and smartphones.
Austin, TX (PRWEB) March 13, 2014
Austin-based GoMax Fitness has announced the redesign and relaunch of its expansive eCommerce health and fitness site featuring high quality, name-brand products. Available for purchase inside shoppable videos, GoMax Fitness has now added hundreds of new items for health and fitness conscience consumers including everything from nutrition, vitamins, diet, protein, weight-gain, and weight-loss to solutions for endurance, better sleep and a healthier sex life.
Since GoMax Fitness first launched in 2011, their goal has been simply to provide shoppers with the highest quality merchandise at competitive prices and provide excellent service. The newly expanded site is easier to navigate, search and purchase products through as well as provide free shipping on most orders inside the United States.
Another way the shopping portal is setting itself apart from the competition is by providing vendor's videos to consumers, which feature everything from product overviews and ads to weight-training tips and healthy advice from professional athletes.
GoMax Fitness' videos are powered by Cinsay, the leader in social video eCommerce, and enable viewers to watch, shop and share on their computers, tablets and smartphones. Health fanatics and bodybuilders can choose from hundreds of brands like Twinlab, Cytosport, Clif Bar, Dymatize, Optimum Nutrition, Universal Nutrition, BSN, Inc. Labrada Nutrition, Valeo, ISS, Nutri Grain, Kashi, Kellogg, Met-Rx, Powerbar, Muscle Milk, BPI, and 5-Hour Energy.
Fitness fans can also share each product Video Smart Store (VSS) on Facebook, twitter, Google+ and most social media sites. In fact, GoMax Fitness is so excited about social media, they are offering shoppers a limited time discount of 10% off any order after 'liking' their Facebook fan page.
GoMax Fitness has included another way to introduce shoppers to the new site by joining others in celebrating National Nutrition Month this March and offering additional specials on hot selling protein mixes and supplements.
Besides free shipping, instant savings, top of the line products and excellent customer service, GoMax Fitness will be adding a fitness blog and hosting contests via social media in the coming weeks.
About GoMax Fitness:
GoMax Fitness is a leading online specialty retailer for health and fitness products. GoMax utilizes a patented Video Smart Store for its eCommerce featuring hundreds of selections, including vitamins, minerals, and herbal supplement products, sports nutrition products and diet products. The company prides itself on high-end products at competitive prices and delivering excellent customer service. "Go To The Max!"™ at GoMaxFitness.com or call 855-467-9211.
About Cinsay, Inc.
Austin-based Cinsay has created a next-generation e-commerce, viewer interactive, video-based platform for any size business. Cinsay's technology enables anyone to sell products, display printable coupons, capture donations, and generate leads all inside its patented Smart Store™ technology.
Forbes named Cinsay one of "America's Most Promising Companies" while eTail Conferences named Cinsay a "Rising Star" in innovation for 2012. Cinsay's eCommerce video-based platform can be used for any individual or business. For more information please visit http://www.cinsay.com or call 855-725-2462.
One or more of the following patents may protect Cinsay's software, systems, and/or services. See http://www.cinsay.com/patents. U.S. Patent Nos. 8,312,486, 8,533,753 and 8,549,555 for interactive Internet-based video applications.