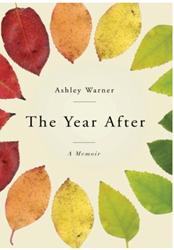 I wrote the book I wish I had been able to read when I was recovering.
New York, NY (PRWEB) March 04, 2014
After many years of working with survivors of sexual assault and other trauma, New York City psychotherapist and speaker Ashley Warner fills a gap in the recovery literature with her own story of healing following a rape 22 years ago. The Year After: A Memoir is a bold, inspirational, and often humorous story with a groundbreaking format that follows the day-by-day struggle to find peace in the aftermath of emotional annihilation.
"This might make a useful book," the author realized in the midst of turmoil after her attack at the age of 24. The year following the spring afternoon when she had been strangled by a lurking stranger as she opened the door to her New York City apartment, pushed inside, and raped at knifepoint was a kaleidoscope of emotion. While there exist some guidebooks to healing from sexual violence, and a few survivors' stories, none other report in diary-like format from the trenches. The Year After offers a raw yet poetic experience of the unfolding trials and ultimate triumph of reclaiming life after trauma.
"I wrote the book I wish I had been able to read when I was recovering," Ms. Warner reports. "Referencing a pamphlet listing normal and expectable reactions to rape is not the same as being given a front-row seat to rage storms, crushing loneliness, and irritation as these and other feelings cycle during the course of working through torment."
Ambivalent participation in the tasks of criminal prosecution after the rapist is identified in a lineup, challenges of economic survival as a young artist in the wake of devastation, and strained social interaction provide the backdrop for the psychological journey which is the heart of The Year After. Interwoven within the narrative are reflections from childhood in North Carolina and 20 years beyond the rape in the search for understanding so familiar to those who have wrestled with life-changing upheaval.
"It was not an easy choice to come out with my own story," Ms. Warner adds. "But in the end, that's exactly why I decided to publish. Only 40 percent of sexual assault victims report the crime, and a measly 3 percent of rapists ever see a day in jail. I have an opportunity to provide support to survivors, reduce stigma, and ultimately increase justice. I had to take it."
The response of rape crisis centers, survivors, and reviewers has been overwhelmingly enthusiastic. "Ashley Warner's account of her year 'after' eloquently portrays the pain and self doubt so common in the aftermath of sexual assault," notes Jean Goldberg of the Crime Victims Treatment Center of St. Luke's-Roosevelt Hospital in New York.
"It's the first book that brought me comfort," claims a rape survivor who chooses to remain anonymous.
Kirkus Reviews calls The Year After "an honest, moving and inspirational memoir of recovery."
The Year After has also been receiving acclaim from readers who are not sexual assault survivors. Beyond the trauma, it is a compelling coming-of-age story that appeals to a wider audience, especially women 18-35.
More information about Ashley Warner and The Year After can be found at http://ashleywarner.com and http://www.theyearaftermemoir.com.
Ashley Warner is a licensed clinical social worker and certified psychoanalyst practicing in New York City. She is also a writer, speaker, and anti-sexual violence advocate.