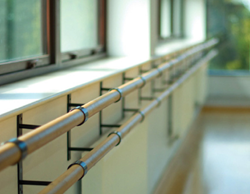 Melbourne (PRWEB) February 28, 2014
When choosing your wall-mounted ballet barres, check on the following:
1) Quality and price. The most expensive barres available are not always the best or most suitable for your needs.
2) Mounting. Brackets and stanchions should be strong to support the barres, ideally with a smooth and clean finish like powder-coating.
3) Barres should have capped and finished edges so that they are safe to use.
4) Brackets. They should ideally hold the barres from underneath so that the barres can be used without obstruction.
5) Adjustable height tracks. If height tracks are not a viable option, double barres may be used instead.
Specialty Theatre has professional ballet barres custom-made and installed for dance studios, rehearsal and performance spaces. Each barre, made of 48mm Tasmanian oak, is tailored for the required space and finished to the customers' specifications. The rails can be fixed from wall brackets or from floor stanchions made of steel to provide optimum support.
All brackets are powder-coated for a clean finish, and are strong and safe for constant use. Brackets are supplied with the appropriate fixings based on the surface they are being attached to.
Single and double barres are both viable options, whether they be used for ballet, jazz or for fitness practices like Barre3 and Pilates.