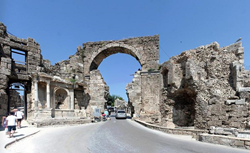 In Side the laid-back nature of traditional Turkish life can be found and revelled in.
(PRWEB UK) 27 February 2014
The popular fishing village, which is pronounced Sea Day and when translated into the ancient language of Anatolian means Pomegranate, sits 75 km to the east of the large city of Antalya, with its snow-topped peaks and white beaches. The town is actually located on a small and rather narrow peninsula, a mere 800m long and 400m wide.
As a result it's steeped in an ancient history with Selge and Perge within easy driving distance. The town itself boasts an impressive amphitheatre – which doubles as a venue for outdoor concerts – and the iconic ruins from the Temple of Apollo.
There is also a restored Roman bath which now incorporates the town's museum. These ancient Byzantine and Roman relics, together with the town's pretty cobbled streets and narrow alleyways, mix with lively bars and pretty waterfront restaurants on the newly-built £10 million promenade. The latter provide afternoon and early evening entertainment while a nightclub attracts early morning revellers.
Shoppers can enjoy strolling along the town's pedestrianised main street while the nearby Sorgun forest provide opportunities for walking or horse riding.
Suleyman Akbay, MD of Turkey estate agents Oceanwide Properties said: "Side is a particularly popular area of Turkey with British and other European property investors and tourists thanks to its smaller size and more peaceful nature compared to the nearby city of Alanya. There's not a lot of new building in Side thanks to property restrictions; high-rise apartments for instance, are banned.
"But there is still plenty of property to catch the eye of retirees or those looking to settle in a place where the laid-back nature of traditional Turkish life can be found and revelled in.
"One bedroom properties are around the £45,000 mark while villas are available from £150,000 upwards. Many of the apartments are in new tourist resorts with the type of facilities you'd expect such as a swimming pool, café and gym."
There is also plenty of soft, sandy beaches to attract tourists and locals alike – thanks to its twin beaches which both differ in composition. Thrill-seekers can look forward to para-gliding, jet skiing, diving and renting boats on the town's west beach (the second longest in Turkey), while those in search of peace and tranquillity head to the opposite east beach.
Side boasts a soothing climate with warm weather guaranteed from late spring to early autumn and 12 hours of sun a day during July and August when the temperatures can rise to 30 degrees and above.
Founded in 700BC, this once-important trading village was once ruled by both Alexander the Great and the Roman Emperor Augustus while Antony and Cleopatra were frequent visitors – such was its beauty and importance as a centre of culture, science and trade for the Romans.
Oceanwide Properties are based in both Fethiye, Turkey and London. They also have outlying offices in Istanbul and Antalya. The company specialises in buying and selling Turkey property to overseas buyers from the UK, Europe and further afield. More information on the company can be found at http://www.oceanwideproperties.co.uk/.