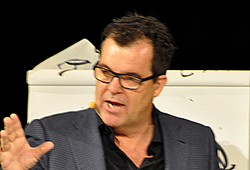 ...many Britons have had to sacrifice their dream of home investment or home ownership as they are being continually over-bid and priced out
(PRWEB) February 27, 2014
With UK housing prices showing no sign of abating, cashed up Britons are snapping up properties where they can. In the midst of fever pitch conditions in the capital city threatening to spill over to other regions, the question is how real estate investors can out-savvy the hot market. Real estate strategist, Rick Otton, has some creative answers that have been embraced by tens of thousands around the world, whether they have the cash, or not.
He will be hosting a 2014 Zero-Debt Property Cash Flow Bootcamp in the UK this March to share his latest low-risk and high-reward strategies. These largely revolve around positive cash flow and building a lucrative property portfolio without needing a new bank loan, much (if any) cash or previous experience.
The high-profile event comes at a time when new research shows that house prices continue to rise faster than wages.
According to local authority data compiled by Shelter, if wages had risen as fast as house prices, an average single person in England would have an extra £29,000 on top of their salary while an average couple with no children would have an extra £59,000.
"This situation is simply unacceptable. Housing is a fundamental right for everyone," Mr. Otton said.
"The bottom line is that many Britons have had to sacrifice their dream of home investment or home ownership as they are being continually over-bid and priced out. Alternatively, they may be financially over-stretching themselves especially if they have chosen to participate in the Help to Buy scheme."
How to invest in property
Rick Otton is a self-made property millionaire who is on a personal mission to educate, inspire and mentor novice and seasoned investors around the world. Apart from the annual Zero-Debt Property Cash Flow Bootcamp he holds for Britons, he also provides free resources on his UK website.
One of these is the Power Property Profits Pack, which allows investors to learn his strategies in the comfort of their own homes and in their own time.
"The pack allows anyone to get started on building long term wealth straight away by learning property investing strategies that work in any location and any market cycle," Mr. Otton said.
"While it's a no-brainer to invest during these times, it's also essential to tread with clarity and insight. With my step-by-step creative real estate techniques, my students can make back end and up front profits from day one – and create win-win situations for both buyers and sellers."
Access Mr. Otton's downloadable Power Property Profits Pack at RickOtton.co.uk/FreePack, as well as the details of the soon-to-end early bird pricing for his March 2014 3-day property training conference.
About Rick Otton
Rick Otton is a property investment professional who, over the last 23 years, has introduced innovative real estate strategies to the UK, Australian and the United States. His creative 'low-risk, high-reward' approach to buying and selling houses is exemplified in his own business, We Buy Houses.
This year marks the 10 year anniversary of Mr Otton introducing his strategies to the UK, and the 5 year anniversary of his innovative 'Buy A House For A Pound' process – one that attempted to be emulated by others. His constant process of strategy refinement, and adapting to the ever-changing real estate market, continues to place him at the forefront of property investment education.
In 2012 Rick Otton published his Australian book 'How To Buy A House For A Dollar' which was named in the list of Top 10 Most Popular Finance Titles for 2013. A UK version is on the drawing board for publication in 2014.
Mr. Otton freely shares insights into his non-bank-loan strategies that have allowed everyday UK men and women to beat the rental cycle and have their own homes. He coaches others on how to build profitable businesses by facilitating transactions that focus on the needs of potential buyers and motivated sellers.
Access his downloadable Power Property Profits Pack at RickOtton.co.uk, and the details of early bird pricing for his next UK 3-day real estate training conference in March 2014. Phone enquiries in the UK are welcome on 0207 000 1027.