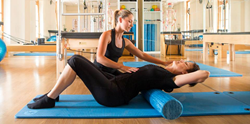 Pilates can be customized for just about any body type and fitness level out there
(PRWEB) March 01, 2014
In her latest blog post titled The Secret Benefits Of Joining A Pilates Class Gollan explains how both the beginner and the notice Pilates user can enjoy the exercises since it's all achieved at their own pace.
She says: "With so many different Pilates moves and different workout routines available, Pilates can be customized for just about any body type and fitness level out there.
"But it's not just this adaptability that makes Pilates such a great form of exercise; increased core strength, posture, and improved flexibility are just a few more reasons that Pilates is perfect for many individuals – young and old. In fact our classes start from as young as 12 and we have members coming along aged 80 and over."
Former dancer Gollan insists that, because it's a holistic exercise, Pilates benefits the whole body, from head to foot. She adds that even complete beginners can feel a benefit in their physique and well-being from their very first class.
Other benefits of Pilates
The way Pilates works the body is in symmetry so that various muscle groups are working at the same time. The focus is on exercising the whole body. Pilates concentrates on learning body control, strengthening the body's core muscles and improving the posture. It's also about everyday movement rather than specialized routines.
All levels can benefit
Top athletes and complete beginners can both benefit from Pilates because it is an exercise form which can be tailored to accommodate individual requirements. The foundation of the exercise is core strength and the focus, body alignment.
Furthering Flexibility
Another benefit of Pilates is improved flexibility and a better range of movement without the lurking fear of injury. In addition, the muscles that develop during Pilates tend to be long and learn rather than big and bulky.
Boosts Strength
As well as boosting the core strength, Pilates also leads to developed muscles in the back, pelvic floor and abdomen. In essence, the entire body is strengthened.
Better Posture
When strengthening the core muscles and gaining good alignment, improved posture is an extremely beneficial and welcoming by-product.
Much more Energy
The more Pilates is practiced, the more energy the body generates. Better still, it's an energy that endures throughout the day rather than a fast fix during the Pilates session itself.
Health Boost
Stiffness, back ache and muscle pain can become a thing of the past thanks to Pilates. Improved muscle tone, flexibility, and joint mobility also make developing a strain injury much less likely.
Practiced by Athletes
A large number of professional sports teams – such as rugby, football and basketball players - use Pilates as part of their training. But the balance and conditioning it provides can help anyone interested in athletic and everyday activities.
Increases Body Awareness
Pilates techniques can become ingrained to the extent they can help in everyday life. Advocates of the exercise tend to be more bodily aware therefore they are automatically more conscious of their posture and body control. It's also about training, willpower and improved concentration.
Coordinates the Body, Mind, and Spirit
Pilates exercises involve total concentration, uniting both the body and mind. Centering the spirit and practicing breathing are also excellent for this.
Gollan adds: "As you can see from the above, Pilates is a great form of exercise, and something that many people have experienced excellent results with. And those benefits aren't just theoretical; the results of the exercises are obvious in the way people carry themselves and interact in everyday life. It's absolutely excellent for creating a healthy and balanced physique."
Inner Strength Pilates treats everyone as an individual by providing an initial one on one assessment. This will focus on breathing, engaging the core and stretching. A tailored programme will then be devised for later sessions.
The Pilates and Barre classes are held in Adelaide's Hyde Park area. There are special classes for pregnancy and other conditions as well as specialist Barre or Pilates sessions for those who wish to focus on a particular area of the exercise. See the class schedule here and check out the company on Facebook. See more about the company offers here.