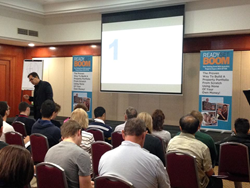 ...in making payments between buyers and sellers more flexible, more Aussies now have the capacity to buy without waiting for a few years to save up enough cash
(PRWEB) February 28, 2014
A study for NeedaProperty.com revealed that real estate located in streets with rude names such as Crotch Crescent and Turkey Cock Lane were found to be $156,350 cheaper than the average price of homes found in regularly named streets, (Sbs.com.au reported on 25 February 2014).
However, out of 2,000 people interviewed, 40 percent answered that a rude sounding street name wouldn't deter them from living in a certain suburb.
"With the record breaking prices of Australia real estate right now some people might find this nugget of information useful when they're hunting for a house with a bargain price, but this doesn't mean that the only way to find affordable houses around the country is to look for places with rude sounding streets," commented Rick Otton, the host of Australia's most sought after real estate event Ready, Set, Boom.
"Another way to buy a house for a bargain is through seller finance, and this has helped thousands of people in the past few years to get a house of their own without spending a lot of cash. In my opinion, this is an easier way to buy houses at bargain price because you can apply these strategies from anywhere in the country," he revealed.
Mr. Otton also shared in his recent interview for the last stop of the Ready, Set, Boom national tour that now's a great time to apply seller finance strategies.
"Property prices just keep increasing now that the Australian real estate market is in a boom. Normally, this would be a problem for first home buyers who don't have a lot of up-front cash to pay for a deposit, but in making payments between buyers and sellers more flexible, more Aussies now have the capacity to buy without waiting for a few years to save up enough cash," according to Mr. Otton.
For more tips on how to successfully grow your property portfolio if you can catch Rick Otton on 1 March 2014 in Melbourne for the last leg of his Ready, Set, Boom property tour. Visit http://readysetboom.com.au/ right away to register for your free seat to the event.
About Rick Otton
For over 23 years property millionaire Rick Otton has built an impressive real estate portfolio using innovative strategies that he has developed – strategies in which transactions are made without the need for traditional bank-type loans.
He constantly refines his techniques as he buys and sells properties through his We Buy Houses business which operates in Australia, New Zealand and the UK.
A gifted speaker and educator, Mr Otton conducts regular one-day free seminars across Australia, which build on the the concepts he shares in his 2012 book 'How To Buy A House For A Dollar', voted by Money Magazine and Dymocks Book stores as one of the Top 10 Most Popular Finance Titles for 2013.
He regularly records and publishes iTunes podcasts via his channel Creative Real Estate.
His innovative low-risk, high-reward approach to Australian real estate investing has been featured in a variety of television programs and magazines, including Today Tonight, Hot Property and Australian Property Investor.
To register for one of Mr Otton's free Australian one day seminars visit ReadySetBoom.com.au or phone, in Australia, 1300 888 450.