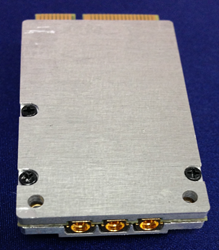 (PRWEB) March 03, 2014
Doodle Labs is proud to release a very high performance embedded MIMO radio transceiver for the Enterprise applications. The ACE-DB-3 is a dual band, 3 MIMO stream IEEE802.11ac compliant wireless adapter in standard miniPCI Express form factor. The ACE-DB-3 transceiver enables the next generation bandwidth hungry IP applications to stream video, data, and voice. The ACE-DB-3 is ideal for embedding advanced wireless communication capabilities in applications such as Enterprise class Access Points, and Routers.
Feature highlights:
1) 1.3 Gbps PHY rate offering over 3x performance vs. three stream 802.11n devices
2) Dual-band operation compatible with legacy 802.11n networks. Software selection from 5.5 or 2.4 GHz operating bands
3) 256-QAM, a higher modulation scheme that increases data transfer efficiency
4) 80 MHz wide bandwidth that is 2x wider than current 802.11n solutions
5) Low Noise Figure and Integrated LNA for better Rx sensitivity result in long range operation
6) High selectivity band pass filters for increased noise immunity
7) Highly linear PA provides low EVM (1.8%) signals for 256 QAM. Up to 28 dBm of RF power (23 dBm/stream @ 16 QAM)
8) AP, STA and Ad-hoc modes to implement Infrastructure and Mesh networks
9) Low Density Parity Check (LDPC) Codes for increased rate at range
10) Small packet size (96 Bytes) in AES encryption at full packet rate
11) Loopback mode to assist in FIPS certification
12) Enhanced in-building location and high resolution 8 bits spectral analysis
13) miniPCI Express host interface. Standards compliant size and form factor. Rugged, construction. MMCX connectors.
For long-range applications, ACE-DB-3 radio can be paired with the Doodle Labs' family of Prism FES to achieve up to 35 dBm of RF power. The ACE-DB-3 has an integrated GPS (optional) to simplify development of location aware applications.
For inquiries, please contact us at: enquiry(at)doodlelabs(dot)com.
About Doodle Labs
Doodle Labs is focusing on the development of best in class embedded Wireless Broadband subsystems for many different industry verticals. Doodle Labs' products help System Integrators to leverage cost effective IP capabilities and Wireless Broadband to enable cutting edge applications. Doodle Labs offers an extensive line of embedded Wireless Broadband subsystems that operate from 100 MHz to 6 GHz frequency range. These radio subsystems enable OEMs to incorporate state-of-the-art wireless capabilities with minimum integration efforts and tremendous flexibility. Doodle Labs radio subsystems achieve the industry's highest RF performance in terms of Operating Frequency, Tx power, Rx sensitivity and interference immunity. http://www.doodlelabs.com/.