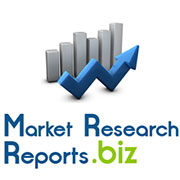 Global And China Industrial Enzyme Industry Report 2014-2016
Albany, New York, United States (PRWEB) February 27, 2014
Global And China Industrial Enzyme Industry Report 2014-2016
In 2007-2013, the global industrial enzyme market size grew at the CAGR of 5.7%, reaching USD4.04 billion in 2013, 1.4 times that in 2007. The global industrial enzyme market is monopolized by a small number of large enterprises with R & D and market dominance. Novozymes, the world's largest enzyme preparation R & D and manufacturing company, possesses more than 45% share in the global market always.
Browse Complete report with TOC:
http://www.marketresearchreports.biz/analysis-details/global-and-china-industrial-enzyme-industry-report-2014-2016
In 2013, China's industrial enzyme output jumped by 8% year on year to 1.0588 million tons. At present, enzyme preparation is used widely in brewing, washing and other industries; it shows potentials in starch processing, feedstuff and other sectors; its application in papermaking, textile and others just arises, but with a promising prospect. In 2013, Novozymes and other world-renowned companies aggressively expanded the Chinese market; VTR, Youteer and other local companies also raised capacity vigorously.
In 2008-2013, the gross margin of the global and Chinese major enzyme preparation enterprises remained at 30%-50%. Compared with well-known international companies, Chinese enterprises are backward in technology and R & D; their products are mainly used in the feedstuff field, while partly in textile, papermaking and other industries, reflecting weak market competitiveness.
In 2014-2016, the global industrial enzyme market size will continue to grow; but affected by the slowdown of emerging economies, the growth rate of the market will decline to some extent.
To Download Sample Report Visit:
http://www.marketresearchreports.biz/sample/sample/189184
Table of Content
1 Overview of Industrial Enzyme
2 Development of Global Industrial Enzyme Industry
2.1 Market Size
2.2 Competition Pattern
2.3 Demand Structure
3 Development of China Industrial Enzyme Industry
3.1 Policies
3.2 Overview
3.3 Import and Export
3.3.1 Export
3.3.2 Import
3.4 Competition Pattern
4 Impact of Downstream Sectors on China Enzyme Preparation Industry
4.1 Food Industry
4.1.1 Starch Processing
4.1.2 Bakery
4.1.3 Condiments
4.2 Feedstuff Industry
4.3 Brewing Industry
4.3.1 Spirit
4.3.2 Beer
4.3.3 Wine
4.3.4 Yellow Wine
4.4 Detergent Industry
4.5 Papermaking Industry
4.6 Textile Industry
5 Major Companies
5.1 Novozymes
5.1.1 Profile
5.1.2 Operation
5.1.3 Revenue Structure
5.1.4 Gross Margin
5.1.5 R & D
5.1.6 Operation in China
Latest Report:
China Reactive Power Compensation Device Industry Report 2013-2015: http://www.marketresearchreports.biz/analysis/189185
Stimulated by the continuous improvement of China's industrial and residential electricity demand, increasing investment in power grid, and accelerated development of reactive power compensation industry, the market scale of reactive power compensation device industry has been expanding.
Currently the most widely used reactive power compensation devices are still the traditional reactive power compensation devices and Static Var Compensator (SVC). The traditional reactive power compensation devices mainly include high voltage shunt capacitor bank reactive power compensation devices, which occupy about 80% of the market. Static Var Generator (SVG) only applies more in wind power, steel, metallurgy, rail transit, and its application in power grid is still in the pilot stage, having not formed a large market scale but with great market potential.
Contact US:
Office: United States
State Tower
90 State Street, Suite 700
Albany, NY 12207
United States
Toll Free: 866-997-4948
Tel: +1-518-618-1030
E: sales(at)marketresearchreports(dot)biz