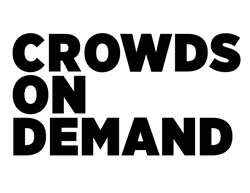 This is our way of giving back further to those clients who have contributed to our success.
(PRWEB) February 27, 2014
Crowds on Demand announced today the creation of the world's first rent a crowd loyalty program. This will reward top clients, offering them discounts, perks and exclusive event invitations.
The program has three tiers. Silver membership is given to clients that have spent over $8000 within a 12-month period. Gold membership is given to those who have booked over $15,000 in Crowds on Demand services.
A top-tier Platinum membership is offered as an invitation-only service. Existing clients who have met these revenue thresholds will be automatically inducted into the program.
"Crowds on Demand's core mission is delivering top-notch PR stunts, events, galas and manpower to a diverse array of clients," said Crowds on Demand CEO Adam Swart.
"Creating a loyalty program allows us to reward our best customers and offer yet another reason for companies and individuals to use us regularly for their needs and their desires."
"When we plan each event, we look at it not as just one event but as an opportunity to earn repeat business and a new regular customer. This is our way of giving back further to those clients who have contributed to our success."
Insiders Club Silver members will receive a free celebrity experience on their birthday, access to a concierge service, as well as complimentary upgrades on all event purchases.
Insiders Club Gold members will receive a free ultimate celebrity experience every year including helicopter transfers, videographers, fans and paparazzi. They will also receive two free upgrades on all event purchases and a direct line to the CEO.
With only a handful of Platinum members, Crowds on Demand is not currently publicizing membership details in the invite-only program.
Along with the launch of the loyalty program comes the launch of a new subscription pricing model, allowing clients to pre-pay for multiple events at a discounted pricing. Subscription customers that meet the appropriate thresholds will also be given the appropriate tier of Insiders Club membership.