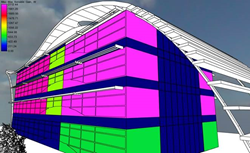 (PRWEB UK) 27 February 2014
IES will launch its latest enhanced solutions for compliance with Part L 2013 at this year's Ecobuild. With the imminent release of the new regulations, IES experts will be on hand to offer practical advice and information on the latest changes at stand #N235. As the only company to cover all the software solutions for regulations throughout the UK, IES have the expert knowledge to provide the industry with a unique insight into the practical implications of the new changes. IES provide accredited software tools, as well as an expert consulting service, training and accreditation for UK compliance.
IES' established compliance tools VE-SBEM and VE-DSM have been enhanced to offer a comprehensive and flexible solution for compliance, covering all routes to compliance for all assessors. The software has been enhanced to offer more detailed analysis with the capability to simulate in sub-hourly time steps. Its Parametric features will help users to find the best holistic solution for their projects.
The VE-Navigator for UK Compliance has also been updated for Part L 2013. It enables designers to establish a methodical structure, effective workflow and demonstrable QA route to compliance calculations, as well as providing guidance on the new 2013 Regulations. Step-by-step guidance from setting up the SBEM and DSM model, to data assignment, simulation and reporting is offered, as well as contextual advice about differences from previous Regulations. Informative reports, including a comparison of all the inputs for the actual & notional building, are created automatically in a format suitable for submission and decision-making.
Other new features available to add on are the ApacheHVAC and RadianceIES modules which will enable users to couple world leading HVAC system simulation with climate based daylight compensation control. The new pay as you go and multi-core cloud solutions will also help users to find the optimum solution more quickly and easily. Extra analysis is also readily available via a link to the IES and BRE, Badge of Recognition (BoR) approved IMPACT tool for Life Cycle Assessment (LCA) studies.
Along with CIBSE, IES are hosting a series of regional full day face-to-face Part L Top Up training sessions. All CIBSE accredited Energy Assessors need to complete the update training course in order to maintain accreditation. This includes training in the regulations and also in the VE software. IES are currently running a special early-bird rate of £250 for those who book their place via its stand at Ecobuild.
-Ends-