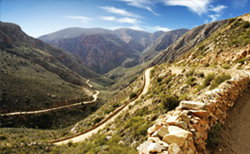 (PRWEB UK) 27 February 2014
As we enter springtime, Freedom Africa has added another fulfilling tour to their ever-increasing portfolio in the form of their signature four-day Garden Route Highlights package in South Africa.
Comprising all the components that matter along South Africa's most famous scenic drive, this package – available at a great value rate of £539 per person – is ideal for couples, families and even single travelers that all share the enthusiasm to hit the open road.
Embodying the ethos of all other touring packages in Freedom Africa's portfolio, the Garden Route Highlights Tour is completed at a leisurely pace, allowing ample time to first take in the natural splendour of Route 62 which winds itself out of the coastal hotbed of Cape Town.
With a clearly labelled itinerary available to all travelers embarking on the tour beforehand, as well as helpful hand-selected Freedom Africa guides being at tourists' beck and call throughout the expedition, there is no better way to explore some of the most iconic stop-off points along this iconic journey.
This package combines a mix of traditional South African experiences alongside some lesser known pursuits as well and one of the latter variety comes in the form of a visit to a working ostrich farm which takes place on day one.
Located in Oudtshoorn, travelers are able to get up close, and personal with these remarkable creatures which stand at an incredible height. From here it's onto the first overnight stop at the De Opstal Country Lodge.
Freedom Africa aims to enable travelers as many different fulfilling experiences as possible within one break and that's the true beauty of the Garden Route; it encompasses so many diverse experiences.
From the ostrich farm on day one, day two is all about the natural beauty of the Cango Caves, located within Precambrian limestones located in the Swartberg mountain range. The caves are unworldly in every sense and yield a truly unforgettable memory.
The heart of the tour on days two and three takes in the rolling beauty of Knysna – and its wonderful Elephant Park - and Plattenberg Bay, with travelers spending two nights in the latter vicinity.
By this point, tourists would have already negotiated the spectacular Outeniqua Pass while widening their eyes to magnificent forest and mountain scenery that eventually gives way to the idyllic Oceanside community of Plattenberg.
Freedom Africa representatives clearly signpost travelers' free time while in the cultural hub of Knysna so they can discover their own South Africa before re-joining the coach for day four whereby a walk across a suspension bridge spanning the Storms River mouth gorge allows for a breathtaking experience.