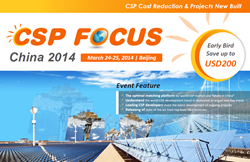 (PRWEB) February 28, 2014
On February 18 the National Energy Administration, in conjunction with the related officials from the national development and reform commission (NDRC), invited the leading CSP players in China including CGN Solar Energy Development, Shenzhen Jinfan Energy, China Power Investment Corporation, China Datang Corporation Renewable Power, Zhejiang Supcon Solar and Huaneng Group attending the electrovalence policy symposium.
At the symposium, Mr. Qi Liu, a deputy director general from NEA emphasized the importance of conducting CSP pilot projects and stated that China would strongly support the development of solar-thermal power generation industry. This meeting shows China government's positive attitude on accelerating the progress of CSP pilot projects so that the whole solar thermal power industry can boom soon.
China is likely to apply demonstrational electrovalence on CSP, rather than FIT or PPA. And it is said that several demonstrational CSP plants will start this year, which will open the gate for the great development of CSP in China.
With the theme "CSP Cost Reduction & Projects New Built", CSP Focus China 2014 will convene on March 24-25 in Beijing China. The conference will attract around 150 attendees from Energy Group, Project Developer, EPC Contractor, Key Component Manufacturer, Technology & Solution Provider, R&D Institutes, Financier, etc. to be present in Beijing.
CSP Great Opportunities in the East World
CSP Focus China 2014 is proud to present a dedicated utility panel sharing a platform with the CSP community so you can finally have a firm guide to your marketing strategy as below.
-- Sino-India CSP Cooperation: Indian Project and Chinese Components
-- Emerging CSP Market Review: China, India, South Africa, MENA
-- World CSP New Builds Update: Trough, Tower, Dish & Fresnel
-- CSP Technology and Cost Reduction: Thermal Storage, Heat Collector, Reflector, etc.
Hear From Eminent Speakers Worldwide:
Ms. Runqing HU, Associate Researcher, Energy Research Institute, National Development and Reform Commission
Mr. Qinghao Han, General Manager, CGN Solar Energy
Mr. Zhiheng LU, Deputy GM, Abengoa Solar China
Mr. Shisen Xu, President, Huaneng Clean Energy Research Institute
Mr. Ke Li, President, Shenzhen Enesoon Science and Technology Co., Ltd
Dr. Ashvini Kumar, Director Solar, Solar Energy Corporation of India
Mr. V Saibaba, CEO, Lanco Solar
Mr. JP Tiwari, CEO, Godawari Green Energy Ltd
Mr. Vimal Kumar, President-Project, Cargo Solar Power (Gujarat) Pvt. Ltd
Mr. Pancho Ndebele, CEO, Emvelo
Ms. Ntombikanina Malinga, CEO, SASTELA
Ms. Yvonne Huang, General Manager, China, BrightSource Energy
Mr. Andrew Wang, Director of Development, SolarReserve
Mr. Ashok Bhargava, Director, Energy Division, East Asia Dept., Asia Development Bank
Mr. Yehuda Harats, CEO, Ener-T International
For more information on registration of CSP Focus China 2014 please click here to get discount code.
Organizing committee of CSP Focus China 2014
Media contacts: Dora Wang doraw(at)szwgroup(dot)com
Project contacts: Sunny Sun csp(at)szwgroup(dot)com
T: +86 21 5830 0710
F: + 86 21 5831 1668
Event Website: http://www.szwgroup.com/csp-focus-china-2014