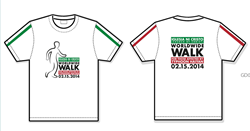 "Garment Printing contributed by printing thousands of t shirts and polo shirts for worldwide events, offering them at discounted prices to help the fund raising efforts.Working on such a large scale event is common to us at Garment Printing, but contribu
London, Barcelona (PRWEB UK) 27 February 2014
Guinness World Record judge Kirsty Bennett formalised the record for the Iglesia ni Cristo The previous record was set in Singapore in 2000 when 77,500 people walked to promote healthy living.
Garment Printing have offices London and Spain, and both print houses contributed to this event.
Bennett stated in Manila that Iglesia ni Cristo members in 28 other countries also held similar walks, with the number of walkers and contributors reaching 519,221 worldwide — a new record for the biggest charity fund raising walk across multiple countries and multiple venues.
"It is a huge achievement," Bennett said moments before releasing a Guinness certificate to INC leaders as the group's members applauded.
An Iglesia spokesperson, Edwil Zabala, comments his group organised the walk in order to raise funds to be used in re-constructing houses and providing work for thousands of people made homeless, aiming at helping all those still living in tents and makeshift homes.
"Garment Printing contributed by printing thousands of t shirts and polo shirts for worldwide events, offering them at discounted prices to help the fund raising efforts. Working on such a large scale event is common to us at Garment Printing, but contributing to a Guinness World Record is a 1st for us, but not the last. Watch this space" said CEO Gavin Drake of Garment Printing
One of the events took place in London, the birth city of Garment Printing. http://incmedia.org/content/worldwide-walk-united-kingdom-highlights/