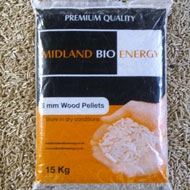 Moving to the new place has enabled us to sell new products. These include three types and sizes of kiln dried logs, firelighters and kindling
Nuneaton, Warwickshire (PRWEB) February 28, 2014
The wood fuel pellets company was established by Managing Director, Andrew Brindley in 2007.
Andrew formed the Warwickshire based wood pellets firm after noticing the steady growth in the Biomass fuel market.
"Around seven years ago (when energy prices first started rising dramatically) I researched other forms of energy and came across Biomass fuel. After yet more research I could see that many people were switching to this type of energy provision," explained Andy.
He added, "At the time the government were offering incentives to people who chose renewable energy and this made Biomass fuel even more attractive".
Initially Andy intended to manufacture pellet fuel as well as allow customers to buy wood pellets from his new website.
After careful consideration the heating pellet supplier decided to concentrate on supply and distribution because competing on price with the larger manufactures wasn't feasible.
The heating pellets firm is based in the Midlands and has many local commercial customers.
Blown wood pellets are delivered in bulk and directly in to the customer's fuel store.
Bagged pellets and wood pellets for horse bedding are sold to domestic customers via their website and are available on a national basis.
The Midlands based pellet fuel suppliers have recently moved in to new premises around ten miles from their previous base.
Midland Bio Energy now operates from a 6000 square foot site in Nuneaton.
Andy chose the new warehouse because of the good transport links and additional space.
The new building now allows Midland Bio to operate more efficiently and increase their product range.
"The building we now occupy is less than four years old; with all the benefits a new building can offer. Everything is in a good state of repair, weather proof and sealed from the outside elements. The roof is higher meaning we can store to a higher level and therefore hold more stock more efficiently," explained Andy.
He added, "Moving to the new place has enabled us to sell new products. These include three types and sizes of kiln dried logs, firelighters and kindling".
"Our local deliveries are on the increase as customers know they are getting their product delivered and stored in their own wood stores. This gives us the edge on a lot of similar companies who often just dump the delivery and expect the customer to move it," said Mr. Brindley.
"We have increased turnover threefold in the last six months. This has been mainly due to the increase in the supply of bulk pellets. Horse bedding sales have doubled and bagged pellets have also increased more than double on last winter (in spite of the milder winter)," said Andy.
Andy explained, "I'm keen to expand the business even more and after discussions with my web designer and SEO Company we decided on a few new and additional features to be added to the website. We are also going to launch a loyalty scheme which will reward our customers with points to spend on our website".
The website now features a person in the header linked to a call back form for visitors unsure of what product to buy or just looking for helpful advice.
A slideshow has been added to the website header promoting Midland's unique selling points and advising visitors of where to click.
Paypal has been installed for customers who prefer this payment method and the site has been moved to a new more search engine friendly domain name woodpelletsforfuel.co.uk.