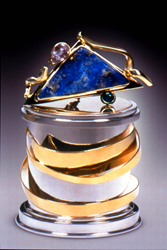 Carefree, AZ (PRWEB) February 27, 2014
Joan and Skip met in art school, in 1976, and have been working side by side creating one-of-a-kind pieces ever since. Their jewelry consists of 14K and 22K gold, diamonds, boulder opals, lapis, numerous colored semi-precious and exotic gems and pearls. The couple also creates unique art boxes, which feature their jewelry designs wrapped around and embellished on top – creating a sculpture in itself. Some boxes also feature hand- carved onyx, lapis, lazuli, sugilite and other carved stones. The techniques include casting, construction, fabrication and carving.
"As artists, we channel our experiences and interaction with our environment into our own iconography and jewelry. We try to express our fascination with light, energy and powerful form, by using nature's finest elements to produce a collection of jewelry that sings with the same excitement we feel."
In addition, this festival features more than 165 juried, world-class artists, displaying over 5,000 original pieces of artwork, in a variety of mediums. Wine tasting is also offered, with a vast array of wines to sample from around the world, while delicious food and delectable chocolates supply the final touches to the unparalleled ambience this festival holds. Live music is a mainstay at all Thunderbird Artists events as well, and this event features guitarist, Darren Skanson. He is an award-winning composer and is one of the most requested classical guitarists on the Beethoven Radio.
The event will take place in the heart of downtown Carefree, surrounded by beautiful gardens emphasizing the plants and cacti indigenous to the Arizona desert. Hours are 10am to 5pm each day. Admission is $3.00 and Carefree residents receive complimentary admission. Parking is free all weekend. Join Thunderbird Artists, Joan Michlin and Skip Ennis, Darren Skanson and many phenomenal talents at the Carefree Fine Art & Wine Festival, this spring.
WHEN: February 28th, March 1st & 2nd, 2014
HOURS: 10am to 5pm each day
WHERE: Downtown Carefree, Arizona (101 Easy Street) ADMISSION: $3 for adults (Free for Carefree residents) PARKING: Free
WHO: Juried fine artists, from all over the world, will come together for one of Arizona's best fine art events. Patrons will enjoy paintings, small, medium & life-sized bronzes, photography, pottery, sculptures, jewelry, baskets, scratchboard, wood, clay, glass, metal sculptures and much more.
FEATURED ARTIST: Husband and wife team, Joan Michlin and Skip Ennis, precious metal jewelers. Each piece is handcrafted as a duo and created to express light and energy that invoke powerful emotions in the viewer.
LIVE ENTERTAINMENT: Featuring Darren Curtis Skanson in the Sanderson Lincoln Pavilion. Darren Skanson's beautiful classical guitar music exemplifies the kindness to the ear and virtuosity of performance that light classical is all about. Also performing at the festival will be vocalist and guitarist, Tony de Grassi, Caribbean steel drummer, Keith Johnson, singer/songwriter, Reiko Kondo and jazz pianist, Dave Swaim.
WINE TASTING: A variety of domestic and imported wines will be available for tasting, hosted by Arizona Stronghold, PRP Wine, Vinocopia, Schlossadler International, Twisted Rose Cellars and more. There is a fee of $10, which includes an engraved souvenir wine glass and six tasting tickets, allowing patrons to roam and sample wines from various locations throughout the event - all while enjoying the art.
FOOD AND CHOCOLATE VENDORS: Giovanni's will provide New York Italian Sausage sandwiches in a variety of styles, while Top Dog Concessions serves classic BBQ favorites. To satisfy one's sweet tooth, Oh, Fudge! will be making fudge on site, All Fun Concessions will have Italian Ices, Desert Snow Shaved Ice will be popping fresh kettle corn, peach cobbler and sweet potato pie will be plentiful, thanks to Patrick's Famous Pies, the scents of roasted nuts will float through the air from Grandma Goes Nuts and Wende's Hit and Miss serves homemade ice cream sundaes, shakes and banana splits! Also, organic goat cheese sampling compliments the wine in the main wine pavilion.