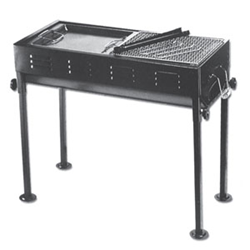 As an online retailer of camping equipment and accessories, we know that the BBQ is an important part of the camping experience
(PRWEB UK) 20 March 2014
For a little more than 6 months of the year, the British weather is good enough to enjoy spending leisure time outdoors. A barbecue is one of the best ways to make the best of a short spell of sunshine, even when there isn't a sustained heatwave.
While the traditional 'bangers and lager' combination isn't the best for health, the chance to get some vitamin D is certainly needed after a long dark winter – and the marginal months in Spring and Autumn are the best time to do this without as much risk of sunburn, when the evenings are longer but the sun is less intense than in the middle of Summer - so it's time to get outside and practice for the bank holiday and Easter season!
"As an online retailer of camping equipment and accessories, we know that the BBQ is an important part of the camping experience," says World of Camping's director Clay Cowie. "Because of this, we've seen a lot of different designs of portable BBQ equipment which are also great for the garden – we don't just have tents for sale!"
In addition to their range of portable barbecues, World of Camping also sell a number of BBQ accessories and other items for enjoying leisure time in the garden – such as loungers and recliners, camping chairs and folding tables, and garden games.
"For extra shelter we recommend a garden gazebo or a shelter like the Vango Event Tent. While technically designed for the camping market, these are also ideal for the garden," said Mr Cowie.
While disposable charcoal BBQs have their place, a purpose-built portable BBQ is always better. Lifting the cooking surface off the ground will mean less smoke in the eyes, a more comfortable posture, and no scorched marks in the lawn!
Not everyone has the space or inclination for a permanent barbeque fixture in the garden, and a portable one allows much more freedom and spontaneity. Whether using a charcoal or gas BBQ it's easy to put the kit in the car boot and pop out to the beach or park – or anywhere with a nice view – stopping at the supermarket on the way for the important ingredients.
A folding Barrel BBQ is immediately the best option for a mixed group where half of those eating are vegetarian, as there are two halves when unfolded, meat can be cooked on one half and tofu on the other.
World of Camping's top tips for a perfect barbecue:
1. Keep the freezer stocked with ice and iceblocks ready to pop in the cooler for a trip out or to keep the drinks cold in the garden.
2. Use proper metal BBQ skewers for a more even cook and better stability. Pork is the ultimate barbecue meat because of the fat content – but fish really lends itself as an ingredient and cooks perfectly on a skewer. A great vegetarian shish kebab can also be made with halloumi and peppers.
3. Charcoal will give the best cooking flavour, but a gas BBQ will be ready to use almost immediately so will save time – vital for an impromptu barbecue.
4. A melamine picnic set is a sensible replacement for heavy plates, and will be easier to carry because of the light weight. There's less chance of breakage as well.
5. A folding picnic table is great for group dining, alternatively a picnic blanket or two will increase comfort.
6. If folding chairs or camping chairs sink into soft ground, use a jar lid under the feet – or a clip-on Kampa Universal Bigfoot.
worldofcamping.co.uk are based in Cornwall as an online retailer of camping equipment, tents, caravan and motorhome awnings, camping fridges, and of course portable stoves, BBQs and barbecue accessories.