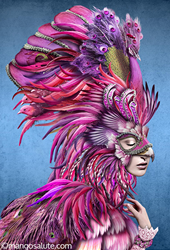 Mango Salute Greeting Cards is opening its closet to artists from around the globe to contribute art for Coming Out greeting cards!
(PRWEB) February 28, 2014
Mardi Gras is a holiday sheathed in mystery - from the moonlit parades of the past to the revelry of today. Originally a Christian night of celebration (and, often, craziness & debauchery) before the start of Lent, Mardi Gras is today often associated with Gay Pride.
Whether celebrating in New Orleans, Cologne, Binche or Rio de Janeiro, one fact is a sure thing: the unshakable enigmatic air created by masks. Behind the mask, any man or woman is free to act however they like - without fear of being shunned by 'respectable' society. With this comes freedom to be oneself. Yet for many people the mask stays on, and coming out from behind it remains a challenge.
Today, masks continue to play an integral role in the Mardi Gras planning process - in fact, many of the Krewe (the secret groups who organize Mardi Gras celebrations) have rules that masks must be worn at all times. If removed, the perpetrator faces immediate dismissal from his or her krewe.
In 1991, New Orleans passed an ordinance that required all krewes to reveal their members in an effort to reduce racial discrimination. Appalled by the breach of secrecy that this would mean, the Krewe of Comus revolted by refusing to march in the parade for a few years.
So many people adhere to the unwritten 'mask rule' that all banks in New Orleans close down on Mardi Gras to avoid having veiled people enter the premises.
Much like the Cinderella fairy tale, the magic of Mardi Gras ends with the night. The removal of masks is emblematic of the holiday's close, as it symbolizes that the air of mystery has been stored away for the rest of the year.
For many gay and lesbian people around the world, there remains incredible stigma and discrimination; so hiding behind a mask becomes an everyday event. Mardi Gras can, and in some places does, provide an opportunity for both masking and unmasking; outrageous costumes, celebrating gay culture and coming out!
Mango Salute Greeting Cards helps each individual celebrate their uniqueness and to mark important life experiences – from birthday to best & fairest; from graduation to grieving. Coming Out is a no small feat; it shows enormous bravery and self-respect, and for many it is proof of the trust they have in their friends and family.
Unlike traditional greeting card companies, Mango Salute aims to have art for all occasions, to celebrate diversity and to ensure that every person, whatever their culture or background, can see themselves and their story in their greeting cards.
For many people announcing their sexual orientation is both terrifying and exhilarating. Sharing the news with pride and flair, when a person indeed trusts and respects both themselves and their community, is something Mango Salute strives to be part of.
So Mango Salute is opening its closet to artists from around the globe to contribute art for Coming Out greeting cards.
Mango Salute would be honoured to give the opportunity to artists who have art that can give little courage, pride or comfort to those coming out, and is inviting them to create their own line of Coming Out Greeting Cards.
Contact Mango Salute on Facebook, Twitter or email us at shoshi(at)mangosalute(dot)com with an example of your work and share a little love.
___
About Mango Salute: The Art of Greeting
Mango Salute is a global collaboration aiming to transform the common cold greeting card into the warm embrace of a meaningful message; the microwaved email into a home cooked feast. We are about the "Art of Greeting" – going beyond the token nod or handshake of communication, to the core connection.
Mango Salute's goal is to provide you with the simple tools and inspiration to create personal meaningful messages.
Mango Salute, the Art of Greeting, has brought together artists from over 30 countries and has an eclectic and diverse range of art styles includes quirky photography, oil pastel, manga, illustrations, ink & street art.
Mango Salute makes it possible to mix the physical and the virtual, by recording a video which is part of the greeting card itself. Alternatively, a YouTube video can be uploaded - allowing for music, song or story to complete the message. The videos are easily retrieved via a QR code printed on the back of the card.
Mango Salute Greeting Cards are printed in high quality on three continents, ensuring that a card can be printed close to its destination, reducing the environmental footprint and supporting local industry.