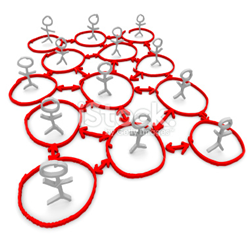 Social networking technology has the potential to increase the productivity of knowledge workers by 20-25%.
Dublin Ireland (PRWEB) February 28, 2014
Social network platforms allow people to build networks and relations among people with whom they share common interests. Social networking technology has the potential to increase the productivity of knowledge workers by 20-25%. The use of this technology in industry has mainly been the domain of large enterprises but that is changing as smaller companies see the benefit of this consumer-led technology.
Here are 5 reasons why small businesses should consider social technology:
Reason #1: Share information effectively and efficiently companywide:
Small and medium sized companies tend to have separate databases and spreadsheets to store disparate pieces of information, causing confusion and errors. An invaluable source of hard information is the accounts software. It is here for example that you will find the definitive list of customers, or exactly how many of what products are on back order and what customers' invoices are overdue. Using social technology concepts, this valuable information can be shared companywide, and users can choose to "follow" accounts and transactions that interest them.
Reason #2: Find information quicker:
Many social networking products aimed at larger enterprises state (quite correctly) that a key benefit of social technology is finding expertise among colleagues in other areas of the company. For smaller companies where all colleagues know each other, this is not a huge issue. However, finding customer contact details and transaction history quickly is certainly a key benefit of a companywide social application.
Reason #3: Share news and keep everyone informed:
The original premise of social networking was to create a platform where people with similar interests could share information. That concept is now being extended into the office. Rather than sharing personal information, corporate social platforms encourage users to share news about contacts or transactions on a social content sharing wall.
Reason #4: Streamline workflow processes:
Smaller companies may not have the resources to develop customised applications to help with workflow and processes in the office. These gaps in automation create an over-reliance on phone and email messages or having multiple spreadsheets with essentially the same data.
Social technology can be used to help automate many of these ad-hoc processes. Projects and workflows can be easily managed by allocating tasks to colleagues and keeping people informed on projects.
Reason #5: Stop hiding information in email inboxes:
There is a wealth of documents, images and full conversations hidden in email inboxes. This information is inaccessible to anyone apart from the person that owns the email account. Using social technology concepts, it is now possible to attach notes, web links and files to a relevant business record – be that a person, company or transaction. This means that all information is where it should be – in context attached to the account or transaction record and viewable by everyone.
Suntico is the world's first Enterprise Social Network that links seamlessly with Sage 50 accounting records. It turns Sage 50 accounting software in the finance department into a social workplace for the whole company. Sitting as a layer on top of the accounting records, Suntico can help increase productivity and collaboration by enhancing communication between employees and makes finding and sharing information easier.
For more information and a free trial go to http://suntico.com/sage_50.
About Suntico: Suntico is a social workplace for companies that use Sage 50 Accounting (US Edition), Sage 50 Accounting (Canadian Edition) and Sage One (UK). Providing a secure "social layer" over a company's financial data, Suntico breaks down collaboration barriers between departments. It also provides mobile access to on-premise Sage 50 records through any internet enabled device.