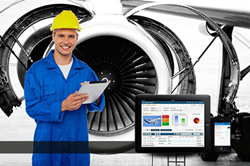 Anaheim, CA (PRWEB UK) 27 February 2014
• To develop compatibility solutions between Turbomeca's Bank of Online Services & Technologies (BOOST) and Ramco's Maintenance & Engineering (M&E) / Maintenance, Repair & Overhaul (MRO) solution

Help Ramco better address the Engine MRO Services segment with its M&E solution
During the Heli Expo 2014, Ramco Systems, the global Aviation Software provider on Cloud, Mobile and Tablets, announced signing of a Memorandum of Understanding (MoU) with Turbomeca to develop compatibility solutions between Turbomeca's BOOST and Ramco's M & E / MRO solution. The partnership aims at developing interface to integrate both the solutions to help customers, Engine Service Centres and Heli-operators benefit from seamless data transfer.
BOOST is Turbomeca's future range of advanced engine and maintenance management services. With this unique, highly secure web-based application, customers will be able to electronically share data with Turbomeca, and facilitate operations and airworthiness tasks and limit human factors through its specific online features. Thanks to the electronic engine logbook integrated with the web-Interactive Electronic Technical Publication (IETP), customers will discover an innovative and fully reliable tool for managing engine configuration, which is key for continuous airworthiness management.
Speaking on the partnership, Mr. Virender Aggarwal, CEO, Ramco Systems, said, "We have been strengthening our footprint to address the aviation software needs of heli-operators. Last year, we entered into a strategic partnership with Airbus Helicopters to offer a cloud based solution to reach small and mid-sized operators. Our engagement with Turbomeca on the other hand, will strengthen our position to address the Engine MRO Services segment. Ramco and Turbomeca can provide a proven, end-to-end MRO Solution with prebuilt Engine OEM data to customers. This helps customers maintain accurate, quality data in the system and reduce time cycle for system implementation."
About Turbomeca:
Turbomeca (Safran) is the leading helicopter engine manufacturer, and has produced 70,000 turbines based on its own designs since the company was founded. Offering the widest range of engines in the world and dedicated to 2,500 customers in 155 countries, Turbomeca provides a proximity service thanks to its 16 sites, 30 proximity maintenance centers, 18 Repair & Overhaul Centers, and 90 Field representatives and Field technicians. Microturbo, the subsidiary of Turbomeca, is the European leader in turbojet engines for missiles, drones and auxiliary power units. For more information: http://www.turbomeca.com and http://www.safran-group.com.
About Ramco Systems:
Ramco Systems provides next generation, end-to-end enterprise solutions that render complete transformation of the business in real time. Built on Ramco VirtualWorks®, all Ramco products are cloud architected by design and address the entire business cycle from transaction to analytics. Part of the USD 1 Billion Ramco Group, the company offers ERP, HCM, SCM, CRM, Financials, Service Management, Asset Management, Process Control, Project Management and Analytics to multiple verticals on the most appropriate cloud model—public, private and community. Ramco focuses on providing innovative business solutions that can be delivered quickly and cost-effectively in complex environments. Globally, Ramco has over 150,000 users from 1000+ customer organizations. The company currently has 20 offices spread across India, USA, Canada, Europe, Middle East, South Africa and APAC.
"Ramco Systems Limited (the "Company") is proposing, subject to receipt of requisite approvals, market conditions and other considerations, a rights issue of its equity shares and has filed its Draft Letter Of Offer with the Securities and Exchange Board of India ("SEBI"). The Draft Letter of Offer is available on the website of SEBI at http://www.sebi.gov.in, on the website of the lead manager at http://www.centrum.co.in and of the Company at http://www.ramco.com. Investors should note that investment in equity shares involves a high degree of risk and for details relating to the same, please refer to the section titled "Risk Factors" at page xiii of the aforementioned Draft Letter of Offer."
For more information, please visit http://www.ramco.com/aviation
Follow Ramco on Twitter @ramcosystems/read latest updates on http://www.ramco.com/blog
For further information, contact:
Vinitha Ramani
+91 - 9840368048
vinitharamani(at)ramco(dot)com; pr(at)ramco(dot)com