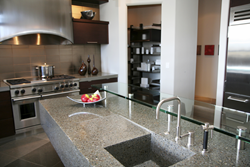 Our customer service is excellent and we work to a very high standard. We carry all the necessary insurance policies and are now fully trained in the very latest cleaning methods.
Brisbane, Queensland (PRWEB) February 28, 2014
Phil Coates established his brand new Brisbane oven cleaning company, Redlands Oven Cleaners in January 2014.
The Brisbane based oven cleaners are based in Redlands, Brisbane and clean ovens for domestic customers.
Phil was asked, "What makes your business stand out from the competition?"
The Brisbane oven cleaner replied, "Our customer service is excellent and we work to a very high standard. We carry all the necessary insurance policies and are now fully trained in the very latest cleaning methods".
Phil added, "We tend not to use the traditional caustic cleaning materials (which can damage appliances) and instead we use non-toxic versions which still have the same cleaning power. This makes us different from most oven cleaners in Brisbane."
"A lot of enquiries come from people who are having difficulty cleaning their ovens to the standard they want, so I've put together a tip sheet for people who fancy having a go themselves or who are interested in how we do it," said the Brisbane oven cleaning specialis.
Phil's tips are as follows:
1. Read the manufacturer's instruction manual
All ovens are different and it is important to be careful when cleaning as not to cause damage to the appliance.
Take note of the manufacturer's recommendation (which should be included in the warranty documents).
If the instructions aren't available (or the manual is missing), visit the manufacturer's website and the instructions should be there.
2. Choose the correct cleaning products
"Supermarket shelves are well stocked with products which promise fantastic results, unfortunately I have yet to find one that is as good as the product I use," said the head of Brisbane oven cleaning specialists, Redlands Oven Cleaners.
"I use a product called Astonish Oven and Cookware Cleaning Paste. Used correctly and with some 'elbow grease' it produces superb results," added Phil.
"Two other vital pieces of equipment worth investing in are galvanised metal scourers (go for the highest quality you can afford) and micro fibre cloths," said the professional oven cleaner.
3. Remember to protect the area around the oven
"This can be a very messy job and I usually place sheeting (which is absorbent) on the floor area around the oven. If you don't want to use sheeting you can always use newspaper," said Phil.
Cover all kitchen tops and surfaces and also protect kitchen cabinets.
Use rubber gloves and an apron to protect yourself.
4. Glass door cleaning
"Don't use anything which is too abrasive as you will scratch the door. Clean the internal glass on a regular basis with a glass cleaner and mild degreaser," recommends Phil.
5. Door removal
"It is better if you can remove the door before cleaning as it will give you better access. It is really easy to do this but refer to the manual if you are unsure" recommends Phil.
6. Oven interior cleaning
"First of all remove the shelves, racks and trays as these will be cleaned later. As the majority of oven interiors are coated in enamel they can be cleaned with a scourer. Use a powerful degreaser (follow the instructions) and then scrub clean," said Mr. Coates.
He added, "Use Astonish paste to remove any areas which are proving tricky to clean."
7. Rack cleaning
"For a professional oven cleaner this is the hardest part of the cleaning process. I use a specially designed steel sink which is fitted inside my truck to clean racks. It boils the oven racks using a biological cleaning liquid," explained Phil.
"Buying this specialist equipment is expensive so the next best thing to do is to soak the racks over night in biological washing liquid and with hot water. In the morning scrub with a scourer," Phil added.
8. Polishing the exterior
"To do this you will need lots of hot soapy water and micro fibre cloths. Remove any cooker knobs, buttons and dials; leave them to soak in a bowl containing washing up liquid and hot water. Now clean the oven front with hot soapy water and a micro fibre cloth. Use paper towels to dry and a glass cleaner to finish. Finally buff with a micro fibre cloth to get a real shine," advised Phil.
9. Use a professional oven cleaning company
"If these tips seem like too much hard work then try a professional oven cleaning company. Phone and ask about prices, ask for references and most importantly check they have insurance," said Phil.
"I would recommend using a professional oven cleaning company at least once. It will much easier for you to stay on top of the cleaning in the future, once your oven has been cleaned professionally," advises Mr. Coates.