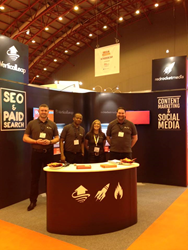 We don't always make it to the shows because we're so busy. We go when we can but, if we can't, we always follow the client on their social media feed
Poole, Dorset (PRWEB UK) 27 February 2014
Alan Jenkins, Managing Director of Quadrant2Design, a company that supplies exhibition stands from Poole in Dorset, enjoyed a successful visit to Earl's Court exhibition hall on Tuesday (25th Feb, 2014).
At the TFM&A show in Earl's Court, London, Alan Jenkins was able to see three of his company's exhibition stands, while also planning for the future of his company's enterprise.
TFM&A (Technology for Marketing and Advertising) is a vast meet that brings together many innovators within the industry, ranging from animation, B2B analytics and digital media production. Quadrant2Design had supplied and built three stands for the show, all of which stood out against a vast array of shell-scheme stands.
With over 200 exhibitors present, however, Alan Jenkins has set the bar high for future representation.
"We've got three stands here, and this is an industry we're well-suited to. I'd like us to have at least ten, maybe twenty, exhibition stands here in the next few years."
It may seem a long-shot, but it is far from unfeasible. Quadrant2Design is the sole UK supplier of the Prestige System, a superior, adaptable model for building exhibition stands. With a focus on strong visuals, uninhibited branding, and a fully in-house design and construction team, Quadrant2Design prides itself on facilitating the best possible stand for each of its clients. There are many contingencies along the way to minimise the risk of problems during the exhibition, including the "pre-build", a full rehearsal of the stand's final form so every client can see their completed product before exhibition day.
Jenni Samways, Marketing Director at Quadrant2Design, said, "We don't always make it to the shows because we're so busy. We go when we can but, if we can't, we always follow the client on their social media feed to see how the stand is received. There's a personal and professional interest in all of our stands."
TFM&A can be considered a success in 2014 but, with a great system and a driven workforce, there is no reason why Quadrant2Design cannot be represented by even more clients in the future.
If you'd like to know more about Quadrant2Design, please visit http://www.prestige-system.com/ . Email enquiries can be sent to designteam(at)quadrant2design(dot)com. All design ideas and proposals are free of charge and obligation.