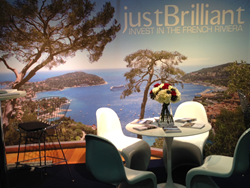 Our experience at the last show in London proved one thing, that the French Riviera is still a favorite place to invest by the British.
Nice, France (PRWEB UK) 7 March 2014
Nice Properties Real Estate and My Place Riviera Interiors will be showcasing the latest property offerings on the French Riviera as well as furniture packages and design options at A Place in the Sun Live in Olympia London on March 28-30th at booth FR1 in the French Village.
Continuing on the success of the last French property trade show in London, the 2014 France Show, Nice Properties is continuing their international marketing efforts for British clients by offering the easiest buy and move packages for resale properties as well as new build residences.
Nice Properties, who was previously selected in 2012 to participate in A Place in the Sun television lifestyle program with a modern duplex apartment for sale in Nice, will feature select and newly listed property offerings for resale properties and vacation type properties in all price ranges as well as key new build projects that offer both pre-sales opportunities as well full resort-like apartments with sea views.
Nicolas Viale, manager of the New Build department for Nice Properties and author of several real estate books, explains, "Our experience at the last show in London proved one thing, that the French Riviera is still a favorite place to invest by the British."
Viale further adds, "The weather, easy access from the UK, and quality of life are the main criteria that keeps them looking to buy properties here on the Riviera. New Build apartments are then quite attractive to them as they require virtually no maintenance as they are brand new and offer the comforts of modern living."
Interior design and furnishings company My Place Riviera, a subsidiary of well known London based design house Callender Howorth, will be providing a variety of furniture package and design options for clients that are either looking to buy property on the French Riviera or have existing property and would like to have renovation work done.
"I always look forward to these shows. So many Brits have a dream of owning a home abroad. My Place Riviera furniture packages offer a designer look at affordable prices. Literally everything you need for your home," states designer Mark Howorth from My Place Riviera.
About A Place in the Sun Live exhibition
A Place in the Sun Live is the official exhibition of the hit overseas property TV show and is the perfect place to find your holiday home, investment property or retirement pad abroad.
There's a world of overseas property information under one roof including over 160 property agents and developers selling thousands of properties, homes of all kinds from just £20,000 to over £1 million specializing in France, Florida, Italy and Portugal, along with free advice seminar and Q&A sessions with experts from across the industry. Exclusive show offers and discounts will be offered as well as a chance to meet A Place in the Sun's TV presenters Laura Hamilton, Jasmine Harman, Jonnie Irwin and Amanda Lamb.
About Nice Properties
Nice Properties is the French Riviera's leading real estate group specializing in the sale of luxury villas, vacation homes, apartments, new build residential projects and commercial real estate. Offering the most effective professional multi-lingual network of real estate professionals with 5 agencies along the Cote d'Azur from Cannes to Villefranche and two specialized departments for New Build and Commercial real estate. They provide a sophisticated and seamless platform for the best real estate opportunities and investments on the French Riviera along with a strategic marketing portfolio that covers both national and international markets. To find out more information please visit http://www.nice-properties.com.