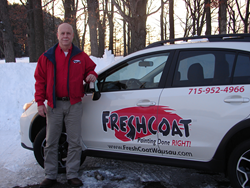 Stevens Point, WI (PRWEB) February 27, 2014
After more than 30 years of working in and with the homebuilding industry, Ken Van Ert is opening his own business in a similar industry – home and business painting.
The new business, Fresh Coat Painters of Central Wisconsin, officially launches in March. The company serves Wausau, Schofield, Marshfield, Mosinee, Stevens Point, Plover, Wisconsin Rapids and the surrounding areas.
"When I started looking into the possibility of going into business for myself, I investigated a few different franchises. I understand how homes are built and what all goes into building and maintaining a home. That's part of what made Fresh Coat a good fit for me," Van Ert said.
Fresh Coat's services include interior and exterior painting, wood staining and refinishing, wallpaper removal and many other services for nearly every protective coating application. They use quality, environmentally safe materials and offer a live 24/7 customer service center, online scheduling and free detailed quotes.
Additionally, Fresh Coat Painters offers a 3-3-3 promise – calls will be answered within three minutes, a quote will be delivered within three days and the job will be started within three weeks, customer schedule permitting.
That overall Fresh Coat commitment to customer service is part of what Van Ert and his wife Marivic are looking forward to bringing to the Central Wisconsin area.
"Customer service is incredibly important to me. I will stand behind the work of my team. I want to make sure everyone who works with Fresh Coat of Central Wisconsin is 100 percent satisfied. We are a quality organization – not some fly-by-night painters in a truck company," he said.
Fresh Coat was founded in 2004 as part of Strategic Franchising Systems. In the last year, Fresh Coat has been included in the Bond's Top 100 and named to Entrepreneur Magazine's Franchise 500 list. Fresh Coat also is part of the International Franchise Association, the Small Business Association's Franchise Registry, VetFran and Minority Fran.
To learn more about Fresh Coat of Central Wisconsin can serve you, call (715)952-4966, email kvanert(at)freshcoatpainters(dot)com or visit http://www.FreshCoatWausau.com.