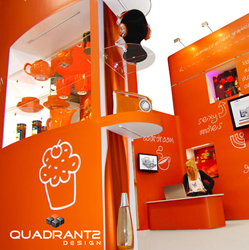 I'm very excited to see what our new Marketing team can come up with for the company.
Poole, Dorset (PRWEB UK) 27 February 2014
Poole-based exhibition and design agency, Quadrant2Design, have added to and expanded their Marketing Team.
The marketing industry is one that is continually growing at an incredibly fast pace. Quadrant2Design have understood this and are setting plans to reach higher goals within their marketing.
This week, Harvey Hancock, English Graduate and Charlotte St.Pierre, Magazine and Feature Writing Graduate, joined the team in Poole.
After a hugely successful 2013, with a bigger list of clients than ever, the exhibition company is set to make 2014 even better.
More valuable and exciting content is being planned to be published for existing and prospective clients. An example of this can already be seen on the company's growing YouTube channel.
Alan Jenkins, Managing Director at Quadrant2Design said, "I'm very excited to see what our new Marketing Team can come up with for the company. I think the team of 4 is going to work extremely well together and I have no doubt we will see the positive effects and outcome we want in no time at all."
Design ideas and proposals for exhibition stands are free of charge and without obligation; to contact one of Quadrant2Design's consultants phone 01202 650 333 or email designteam(at)quadrant2design(dot)com.