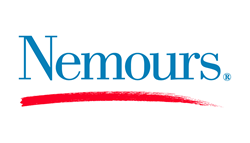 Nemours applauds LCG's commitment to ensuring children spend their days in healthy environments.
Washington, DC (PRWEB) February 27, 2014
Nemours congratulates First Lady Michelle Obama and Partnership for a Healthier America on today's announcement regarding Learning Care Group's (LCG) commitment to join PHA and implement standards that align with the Let's Move! Child Care goals.
"Early care and education providers have a vital role in raising a healthier generation of Americans," said David J. Bailey, MD, MBA, President & CEO, Nemours. "With 12 million children in child care in the U.S., these settings are critical for helping kids adopt healthy behaviors. Nemours applauds LCG's commitment to ensuring children spend their days in healthy environments."
The announcement was timed to the First Lady's celebration of the 4th Anniversary of Let's Move! and demonstrates continued momentum in the movement to prevent childhood obesity. Earlier this week, the Centers for Disease Control and Prevention released new research showing obesity prevalence among 2 to 5-year-olds dropped by 43 percent in less than a decade.
Today's announcement expands and leverages the work that Nemours and its partners across the country are doing with initiatives such as Let's Move! Child Care, the National Early Care & Education Collaboratives, a joint effort of CDC and Nemours, and Healthy Way to Grow, a partnership between the American Heart Association and Nemours. These efforts help providers make changes in nutrition, breastfeeding support, physical activity, and screen time policies and practices and are essential to ensuring that our nation's youngest children continue to live, learn and play in environments that support their health.
###
About Nemours
Nemours (NAH-mors) is an internationally recognized children's health system that owns and operates the Alfred I. duPont Hospital for Children in Wilmington, Delaware and the Nemours Children's Hospital in Orlando, Florida along with major pediatric specialty clinics in Delaware, Florida, Pennsylvania and New Jersey.
Established as The Nemours Foundation through the legacy and philanthropy of Alfred I. du Pont, Nemours offers pediatric clinical care, research, education, advocacy and prevention programs to all families in the communities it serves. For more information, visit http://www.Nemours.org.