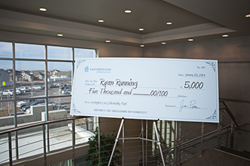 Salt Lake City, UT (PRWEB) February 27, 2014
Lexington Law is pleased to announce the launch of the "Lexington Law Scholarship Award" fund. Today the firm pledged $50,000 towards the scholarship fund. Awards from the fund are available to U.S. students who write winning essays describing what a credit score means to them, how they think they will use it in the future, and how they will maintain a good credit score during their college years.
"Over the past several months Lexington Law Firm has launched an academic scholarship aimed at assisting consumer applicants," stated John Heath, Directing Attorney for Lexington Law. "During this process, we have been ecstatic at the level of response – hundreds of applicants submitted quality applications."
Lexington Law will award the first $5000 scholarship to Ryan Running of BYU, at a check presentation this Friday, February 28, 2014, at 2850 South Decker Lake Drive in West Valley City, Utah. The winning essay and the two runners-up essays can be found at the Lexington Law website.
"Lexington Law is proud to support programs such as these," said Heath. "We saw a chance to provide opportunities to bright young people, such as Mr. Running who are working their way through college and taking a smart approach to using credit. If we can help these students out and get them thinking about their credit scores and credit reports early in the game, then we have done what we set out to do."
The award is open to any current student of an accredited US university or college with a cumulative GPA of at least 2.5. There is no age requirement for the award. The application deadline for the 2014 fall semester is Sunday, August 31, 2014 at midnight. The next award recipient will be announced on September 1, 2014.
For more information, and submission guidelines for the Lexington Law Scholarship Award, please visit the https://www.lexingtonlaw.com/credit-education/newsroom/lexington-law-news/what-does-a-credit-score-mean-to-you.html.
###
About Lexington Law
Lexington Law is a consumer advocacy law firm with decades of experience, helping hundreds of thousands of Americans work to improve their credit. The firm comprises the largest network of credit repair professionals in the U.S., employing a growing staff of 26 attorneys and 200+ paralegals/agents across 19 states. By leveraging consumer rights to legally resolve issues with creditors and credit bureaus, Lexington works to ensure that client credit reports are fair, accurate, and substantiated. For details about Lexington Law's services, attorneys, or statistics visit: http://www.lexingtonlaw.com