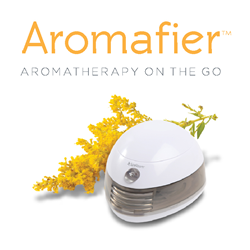 Cleveland, OH (PRWEB) February 27, 2014
Aromatherapy enthusiasts can now be transported to a soothing spa environment — anytime, anywhere — with the Aromafier, SpaRoom's compact and portable fragrance diffuser. The newest addition to SpaRoom's ever-expanding line of health and wellness accessories, the Aromafier is perfect for the frequent traveler, sports mom and anyone who may enjoy the benefits of essential oils.
With just a few drops of essential oils applied to Aromafier's replaceable fiber pad, the silent fan will project soothing, healthful aromatherapy into any environment. The Aromafier is easy to use and runs on two AA batteries or a USB connection; no water required!
The Aromafier, which promotes a feeling of wellness, rounds out SpaRoom's line of aromatherapy products. The UltraMist is a stunning ceramic diffuser that stays put and essentially becomes part of the décor in any room. Perfect for spas, healthcare centers, businesses and home environments, UltraMist provides an impressive stream of mist, and it can diffuse any choice of essential oils. Also included in SpaRoom's line are the AromaMist™, its premier ultrasonic diffuser, and the sensory kit, which includes three certified therapeutic essential oils: "Relax," "Refresh" and "Rejuvenate."
SpaRoom products are designed to provide the health and wellness markets with a better sensory experience–anytime, anywhere. From ultrasonic misters and soothing aromatherapy to the perfect spa slipper, it's easy to create a healthy, relaxing environment. Many of SpaRoom's products have already gained acceptance by leading spas, resorts and specialty retailers throughout the U.S. and in Europe.
For more information on SpaRoom's premier line of products, visit sparoom.com, follow them on Twitter @YourSpaRoom, and see their products on Pinterest, pinterest.com/sparoom and on Facebook at facebook.com/SpaRoom.