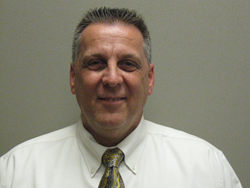 Bethpage, NY (PRWEB) February 27, 2014
King Kullen Grocery Co., Inc. proudly announces the promotion of Richard White. White will soon step into his new role as maintenance manager.
White has dedicated much of his career to King Kullen. He has worked for the supermarket chain for more than 20 years, beginning his career in 1989. When he first started, White served as a maintenance technician, working in the grocery stores making various repairs and renovations to all King Kullen locations. White has also served as a project manager on specialty and remodeling jobs, and has designed and built custom displays (mill working) to suit the needs of various stores.
In White's new role, he will assume the responsibility of managing all of King Kullen's maintenance technicians, as well as overseeing the maintenance of all roofs, locks, buildings, checkouts and custom woodworking, as well as the company's shop operation.
Stanley Mitchell, vice president of construction and maintenance, said, "Rich has been a dedicated member of our department for many years. We are happy to have him with us, and know he will have continued success as our new maintenance manager."
About the company:
Headquartered in Bethpage, New York, King Kullen Grocery Co., Inc. is recognized by the Smithsonian Institution as America's first supermarket. Michael J. Cullen opened the doors of King Kullen in 1930. Today, four generations later, King Kullen is still family-owned and operated. It remains a leader in the supermarket industry. From that very first store in 1930, King Kullen today operates 39 supermarkets and four Wild by Nature stores across Long Island. In addition to traditional grocery, King Kullen features a large catering and prepared foods department, freshly-baked breads and sweets, and healthy and organic areas, with pharmacies in many stores as well.