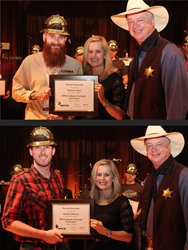 'We really want to thank our families that's gone through this process,' said DiRocco. 'They've done a lot for us and this isn't possible without their support.'
Houston, TX (PRWEB) February 28, 2014
Eddie Lopez and AJ DiRocco of Shea Concrete Products were both named Master Precasters of the National Precast Concrete Association (NPCA) at the 2014 Precast Show. They are the first Shea employees to complete Precast University's full curriculum of precast concrete, safety, technical, quality control, production, and leadership courses.
The Master Precaster certificate is the end result of the NPCA's Production & Quality School (PQS) program that gives those new to the precast industry a chance to learn and develop valuable skills. It's also a recommended option for those with experience looking to take the next career-based step. The curriculum consists of six topics spread across three PQS levels. Notable learnings include batching and mixing for precast concrete, water-cement ratios, forklift operations, precast maturity methods, reading and understanding blueprints, basics of design theory for concrete elements, and improving employee performance.
"We really want to thank our families that's gone through this process," said DiRocco, a third-year production employee at Shea's Wilmington, MA plant. "They've done a lot for us and this isn't possible without their support."
"It's definitely a pretty good feeling to get the certification," said Lopez, who also works in Wilmington as an Estimator. "I didn't think it was such a big deal when we first started out, but towards the end, we both really recognized how big of a deal it was, especially when meeting the other precasters."
The two each completed their course material under a three-year period by logging onto webinars and attending prior editions of The Precast Show in Indianapolis and Orlando. They are joined by 18 other Master Precaster graduates in this year's class. The certification was first made available in 2012 and Mike Loy of Bethlehem Precast became the program's first graduate.
"The reason we became Master Precasters was because Greg Stratis is a really big participant of the NPCA," DiRocco explained. "He looked into it and saw it was something we could do. I'm glad he opened us up to it, it's been a great experience for everyone involved."
"As an NPCA-certified precaster, we felt it was a no-brainer," Stratis said. "There's a lot of valuable information that can be learned with this certification and we're glad that other employees at Shea have also started the certification process."
Lopez and DiRocco are fourth-generation Shea employees. AJ's father, Tony, is the company's Head Mechanic and Eddie's father, Robert, is the Stair & Bulkhead Dispatcher from the Amesbury, MA plant.
"The technical part was hard for me, there was a lot of math. But everyone from our different plants made sure to help me out when I needed it," said Lopez, currently in his 12th year at Shea.
"I definitely think about some of the classes everyday at work," said DiRocco. "There's a lot of small but important things to remember and I try to apply them as best I can. It's been great."
About Shea Concrete Products:
Family-owned and operated since 1949, Shea Concrete Products is one of New England's largest suppliers of precast concrete products, serving both commercial and residential industries. As a National Precast Concrete Association (NPCA)-certified company, Shea Concrete's manufacturing plants consistently operate at the highest standards of production and quality control.
Shea Concrete produces environmentally safe concrete products, including bulkheads side entry, and standard steps. Serving all of New England, Shea Concrete Products is headquartered in Wilmington, Mass., with additional locations in Rochester, Mass., Amesbury, Mass., and Nottingham, NH.