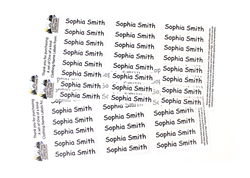 These labels transfer easily to clothing and they're priced very affordably.
Boyd, WI (PRWEB) February 27, 2014
Summer camp may take place in the summer, but it's still smart to get a jump on the necessary preparations for it right now. Anyone who's already been to summer camp knows that every camp insists that everything be labeled. This way each and every item that gets brought to camp goes home with the same kid who brought it.
It also helps camps that provide a laundry service for their campers to make sure the right clothing goes to the right camper. Of course, ironing labels onto clothing is tedious and time-consuming. That's why some places like the summer camp retailer Everything Summer Camp have found better ways to make their name labels so that they will transfer to clothing faster and easier.
Along with practical name labels, Everything Summer Camp also made a fun, exciting product, offering the customer a whole new palette of options from fonts and icons to fun colors and cool designs for the background of the label. Campers can have their name printed on top of a favorite color or their choice of patterns.
Everything Summer Camp's Clothing Name Labels have come a long way since the days of simple black font on a white strip of polyester. However, those old, simple name labels are exactly what some people want. Everything Summer Camp has good news for those people.
"Basics are back!" says Nate Volrath, Manager of Everything Summer Camp's Graphics Department. "Now campers can get simple, black-printed-on-white labels at Everything Summer Camp. These labels transfer easily to clothing and they're priced very affordably."
Get a jump on preparing for summer camp and take care of clothing name labels with Basic Clothing Name Labels from Everything Summer Camp. They're simpler, easier, and more affordable.
---
About Everything Summer Camp
Everything Summer Camp has been helping kids get ready for summer camp since 1987. Their wide selection of camping gear includes camp trunks and other camping supplies. Top selling items include water bottles, cot-sized bedding, rain jackets, insect repellent, iron on labels, and more. Known for their customer service and fast shipping Everything Summer Camp is recommended by more camps than any other camp outfitter.
Visit http://www.EverythingSummerCamp.com to learn more about camp footlockers, name labels, duffel bags, and camping supplies.