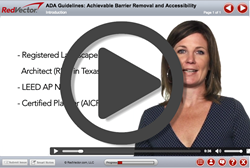 "Video is interwoven into more aspects of our lives today, and video-based training has become an expectation of clients. To better meet their needs, we've created courses that are more than just talking heads on the screen." – Matt Casey, Ph.D, VP
Tampa, FL (PRWEB) February 27, 2014
RedVector.com, the leader in online continuing education and workforce training solutions for the architecture, engineering and construction (AEC) industries, launched a new website today, complete with video-based courses and other interactive learning that makes training experiences more meaningful. The new site also allows industry professionals to access their state license renewal requirements and accreditations information more easily.
People have become increasingly used to consuming information in video format, and the training experts at RedVector say continuing education shouldn't be an exception.
"Video is interwoven into more aspects of our lives today, and video-based training has become an expectation of our clients," said Matt Casey, Vice President of Content and Accreditations at RedVector. "To better meet their needs, we've created courses that are more than just talking heads on the screen. Expertly-developed content is presented along with compelling visuals and on-screen text, enhancing the learning experience."
Additionally, the new site boasts more user-friendly navigation and a more simplified inventory of accreditation information and license renewal requirements by state. Courses are also available in smaller, bite-sized learning objects to help users tackle specific topics more easily, and to make training more lasting overall.
RedVector continues to lead the AEC continuing education market with breakthrough innovations. The revamped site and new courses are evidence of its continuing product evolution and its focus on providing clients the highest quality content in the market.
About RedVector
RedVector sets the standard for excellence in online continuing education and training for the architecture, engineering and construction (AEC) industries and holds more than 60 state and national accreditations. RedVector offers individual courses as well as large-scale corporate training solutions for AEC firms featuring customizable and easily accessible online universities with a full range of tracking and reporting features. With an online library exceeding 1,100 courses authored by more than 100 subject matter experts, RedVector.com serves more than 130,000 AEC professionals in all 50 states. The recipient of numerous community honors and industry awards, RedVector was founded in 1999 and is headquartered in Tampa, Florida. For further information call 1-866-546-1212 or visit RedVector.com.