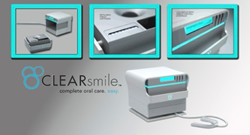 Atlanta, GA (PRWEB) March 01, 2014
CLEARsmile is a new oral hygiene device, developed by Dr. Igor Reizenson, that was invented to replace the traditional tools that support oral health. During the span of his career, Dr. Reizenson started to imagine his ideal oral hygiene device after working with certain groups of clients, including young children and the elderly. According to the American Dental Association, February is National Children's Dental Health Month. Reizenson created CLEARsmile because he believes we can do more to improve the oral health of the segments of our population with dexterity problems.
"CLEARsmile is an up-and-coming device that will be able to help kids and their caregivers maintain a healthy smile more predictably and consistently," said founder Dr. Igor Reizenson. "The goal of CLEARsmile is to become the new standard for oral health maintenance, ultimately replacing the traditional toothbrush, toothpaste and floss."
The biggest challenge the CLEARsmile faces is funding. According to a study done by a Harvard Business graduate, getting CLEARsmile to the prototype stage will cost about $750,000. To raise the necessary funds, Dr. Reizenson has turned to the crowd-funding site, Indiegogo.com. Crowd-funding enables people with a great business idea to ask the general public for the funding they need to set up or expand. The business sets a target for the money it needs to raise and explains how it will use the cash. People can then make pledges for small amounts of money in return for a reward if the target is reached.
"Please be a part of getting this device into the marketplace by participating in the CLEARsmile project crowd-funding campaign on http://indiegogo.com starting on July 14, 2014," Reizenson said.
For more information about CLEARsmile, please visit http://clearsmileonline.com and visit their new blog at http://clearsmileonline.wordpress.com/.
About Dr. Igor Reizenson:
In 2001, Dr. Reizenson received his DDS (Doctor of Dental Surgery) from the State University of New York at Buffalo School of Dental Medicine. He then advanced to the prestigious General Practice Residency Program at Veterans Hospital of Western New York. In 2007 Dr. Reizenson was recognized by the History Channel's "Modern Marvels" as one of America's top 25 inventors of the year for a patented oral hygiene device called ClearSmile. He is the founder and CEO of ClearSmile LLC. Dr. Reizenson is a long standing member of the American Dental Association, as well as the Georgia Dental Association.