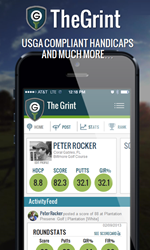 More shareable and easier to use.
Miami, FL (PRWEB) February 28, 2014
While golfers in the US get ready for a new golf season, TheGrint Golf GPS and Golf Handicap released a new version of its iPhone app that will revolutionize how people enjoy golf outside of the golf course.
This new version of the app is more shareable and easier to use. The home page got a new feel with more modern feel and usability. It resemble a lot of the features that were already available in the website and that many users raved about.
Additionally, the company also announce a reduced price of its premium membership prices which are now $19.99 per year. Which makes it more affordable for those users who want to upgrade from the zero cost version to the premium features version.
This new version will continue to offer golfers with a way to obtain a USGA compliant handicap at no cost. It will continue to leverage its community of users to establish clubs around the country and provide other users with USGA golf handicaps.
Finally, the company said that an update of the Android version is coming really soon.
For more information, you can reach out to TheGrint at contactus(at)thegrint(dot)com.