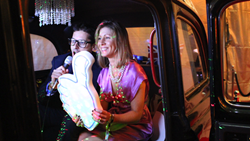 "We were delighted that we were asked back for the 3rd time in a row to The Brit Awards! Yet again it was a fantastic night filled with fun and lots of photo snaps! We hope we can say the same again for next year," said Lee Hoppen, Assistant Manager.
Hainault, Essex (PRWEB UK) 27 February 2014
The Brit Awards are one of the most recognised music award events in the annual calendar watched by millions and attended by stars of the music industry from all of the UK as well as an international presence. Megabooth were asked to attend for the third year in a row to provide some visual pazaz to the celeb crowd. They hit the red carpet in style with sharp suits, alcohol galore and a high-profile VIP guest list for the capitals biggest music award evening, the Brit Awards 2014.
The funky photo booth kit included three interactive social photo pods, a fitting classic black taxi photo booth for the London theme and two lucky professional photographers ensuring that no stone was left unturned.
The photo booths went down a storm with the famous and brilliant, Lady Gaga, Leonardo DiCaprio, Jonny Depp, Jimi Hendrix and Adele… Well, at least in wax work fashion! These were supplied from Madame Tussauds London and provided a great backdrop for the glamorous photo pods.
Combined with Celebrities wax figures, champagne flowing and the place lit up with the best in the music business, this brought hours of entertainment to the booths. Brit Nominees Tom O'dell, John Newman, Jake Bugg and London Grammer hovered around Megabooth's black taxi only to be pushed away by Katy Perry and Ellie Goulding flamboyant backing dancers. Nevertheless the photo booth was awash with vibrant colours and popularity by the celebrities and their friends.
Nile Rogers and Pharrell Williams, dancers 'The Northern Soul Dancers' who took to the stage for the final performance of the night, still took the time to show the Megabooth team a few moves before hopping into their black taxi to take home a moment of the special event.
On an evening filled with awards, cheers, tears and plenty of champagne, the weird and waking Mad Hatter after party made for a brilliant end of the night before the rest of the late night stop outs and party goers stumbled home in celebration.
Megabooth offer custom photo booths for the whole of the UK. They specialise in booths for weddings, birthdays, school proms, corporate events, Bar/ Bat Mitzvahs, promotional events, launch parties, tours and much more.
Press enquiries:
Phone: 020 3053 4333
Email: info(at)megabooth(dot)com