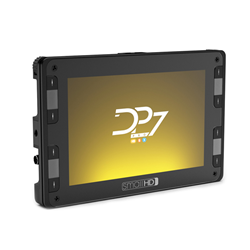 'SmallHD is breaking new ground again,' says Dale Backus, SmallHD's CTO. 'This time, not only with our leading HD display technology, but also with a host of additional software and hardware innovations that have never been seen before in one product.'
Charlotte, NC (PRWEB) March 11, 2014
Innocinema has become one of the first qualified resellers to offer the SmallHD DP7-Pro line of field monitors featuring flexible signal conversion, HD recording to SD card, Rec. 709 LUTs, durable aluminum housing available in three first class 7-inch display technologies—OLED, IPS LCD and "High-Bright" IPS LCD with pricing starting at $1,399 USD.
The OLED technology found in the DP7-Pro offers high contrast, deep black levels and 100% reproduction of the NTSC color gamut—a feature found only on fully fledged color grading monitors. The high-bright model emits up to 1500 nits, making it a great option for monitoring in bright outdoor environments.
The DP7-Pro is engineered to offer maximum I/O in a durable and lightweight design. Weighing in at less than 1.2 pounds, the DP7-Pro is framed with a milled aluminum chassis providing robust strength with minimal weight. Key I/O features include tally indicators, locking connectors, stereo speakers, 8 proximity-sensing "Smart Keys", scroll wheels, interface lock switch and more.
Critical software features are included in each DP7-Pro all of which can be ambidextrously assigned to any "Smart Key" well suited for quick and efficient reference. Standard software includes:
-Waveform: A high-resolution waveform monitor provides vital exposure date. The DP7-Pro's Waveform feature can be repositioned around the screen.
-Vectorscope: A large vectorscope gives a detailed view of the color balance in a shot. Gain may be increased to magnify the vectorscope, helping to keep colors within safe broadcast limits.
-Focus assist/ peeking: Keep the subject in razor-sharp focus with a industry-leading Focus Assist feature. Selectable intensity, peaking color and the choice of full color or B&W background assure the focus plane is easily trackable from any viewing distance.
-Zebra & false Color: Customizable IRE ranges, as well as other common industry standard scales built-in make setting exposure a fast and painless affair no matter which system the user has experience with.
-Anamorphic de-squeeze: 2x, 1.5x, 1.33x — However the image is squeezed, the DP7 can correct the image to appear at the correct aspect ratio.
-Pixel zoom: When displaying a 1080p signal, pixel zoom allows the user to view the image at a 1:1 ratio, meaning users will see a 720p crop of the 1080p image.
-Cross conversion: Whether needing to convert an SDI signal to HDMI to have it looped to a television on-set or wish to convert an HDMI signal to SDI to improve a professional workflow, the DP7-PRO has it covered, all while retaining a full 1080P image down the line.
-Horizon indicator: When operating a steadicam it is common for the camera to begin to tilt without it being immediately obvious to the operator. Using the DP7-PRO's accelerometer, the horizon indicator is a great way to make sure the monitor is on the level.
-Real-time 3D LUTs: The DP7-Pro is able to detect and display nearly every type of LUT thrown at it, allowing the user to view a graded image even as it's being captured.
SmallHD has developed specific accessories for the DP7-Pro for added flexibility on set. The DP7-Pro can be outfitted with Anton Bauer, V-Mount, Canon or Sony battery brackets. Additonally, run power through D-Tap, 4-pin XLR, 4-pin LEMO, or a custom flying leads power cable. Mounting the DP7-Pro can be achieved by using any of the five 1/4" 20 mounting points to fix either the SmallHD hot shoe ball mount or the articulating StrongArm 7. Users will also find it easy to install firmware updates to all SmallHD monitors using the SmallHD 2GB Flash Drive v.2.
SmallHD also plans to develop integration of additional accessories via the "X-PORT" found on OLED and High Bright models of the DP7-Pro in the near future.
Innocinema is a qualified SmallHD authorized reseller with the most current SmallHD product information, pricing, and promotional information offered.
About Innocinema:
Founded by Justin Goff in 2010, Innocinema, is currently the only global reseller of ActionProducts, maker of ActionCam, the first modular stabilizer system on the planet. In addition, over 35 world-renowned brands have been authorized and supported through Innocinema. Calling with a customer inquiry, most likely the customer will be speaking to Justin himself.