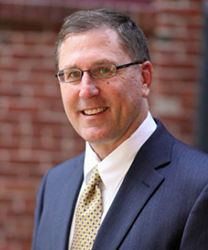 Mark is someone I could count on for good counsel and leadership.
Lancaster, Pa. (PRWEB) February 27, 2014
Mark Stanley, a partner at Lancaster, Pa. full-service law firm Hartman Underhill & Brubaker LLC (HUB), recently was honored by the Building Industry Association (BIA) of Lancaster County, Pennsylvania. Stanley received the organization's 2013 Presidential Award, his second time receiving the honor.
The award is given each year to associate members of the organization vital to the residential construction industry (attorneys, lenders, sub-contractors, designers, etc.) – individuals who "have truly stood out during the year by way of contributions to the BIA of Lancaster County," said BIA executive director Karen Watkins.
"I chose Mark for the presidential award because of his significant contributions helping the BIA to negotiate a workable storm water ordinance between the county, many local townships, and the state, which benefitted our industry and the customers we serve while protecting the Chesapeake Bay Watershed," said Chris Labs, 2013 president of the BIA. "Additionally Mark lent his energy and expertise to the task of rewriting the BIA's bylaws, which will guide us for years to come," Labs said. "Mark is someone I could count on for good counsel and leadership."
Stanley recently was elected 2014 associate vice president of the Pennsylvania Builders Association, the voice of the home building industry in Pennsylvania. His practice at HUB focuses on zoning, land use, and land development matters. Stanley represents local, regional and national development clients in South Central Pennsylvania, including Lancaster, Lebanon, Dauphin, York and Berks Counties. Stanley earned his J.D. from University of Dayton in 1981, joined HUB that same year, became a partner in 1989, and served as the firm's managing partner from 2010 to 2013.
About Hartman Underhill & Brubaker
Hartman Underhill & Brubaker LLC (HUB) is a full-service, Lancaster, Pa.-based law firm offering comprehensive services throughout Central Pennsylvania in the areas of business, land use, school and municipal, and litigation. Its practice groups include Business Services; Financial Services; Employment, Pension, and Tax; Estate Planning, Succession Planning, and Elder Law; Real Estate, Zoning and Land Use; School and Municipal Law; Litigation; and Family Law.
Established in 1978, HUB has steadily expanded in size, expertise, and depth of experience while enhancing its position as one of the most well-respected and well-positioned law firms in Central Pennsylvania. The firm has offices in Downtown Lancaster and Ephrata, Pa.
HUB's team of 19 attorneys includes partners Michael W. Babic, Thomas W. Bergen, Joshua D. Cohen, Robert M. Frankhouser, Jr., Kevin M. French, Alexander Henderson, III, William C. McCarty, Jeffrey P. Ouellet, Kim R. Smith (managing partner), Mark Stanley, and William J. Zee III; associates Joseph B. Allen, Brandon S. Harter, Kaitlin R. McGinnis, Glen Shikunov, and David M. Walker; and attorneys of counsel Marylou Barton, Mark L. James, and Christopher S. Underhill.
For more information, visit http://www.HUBlaw.com.