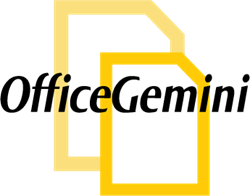 Houston, Texas (PRWEB) February 28, 2014
The AIIM Conference is a three day event that is split into three different tracks for this year's conference. Office Gemini, a Gold Sponsor of the event, is going to be attending the conference this coming April 1st- 3rd in Orlando, Florida. Each track will be showcasing multiple speakers from manufacturers and service providers to end users. There will be a Process track, a Control track and an Engage track that attendees will be able to choose from and there will be breaks in between that will give opportunities for everyone to network.
Office Gemini's Vice President of Marketing and Sales Cesar Vega and Chad Seedfeld from Business Development from Canon will be leading one of the roundtable discussion sessions that will be taking place during the breakout sessions. They will be showcasing the new Dokmee mobile app developed by Office Gemini that works hand in hand with the also newly developed Canon Wi-Fi Unit Wu 10. These products allow users to scan documents straight from a scanner into a mobile device, laptop or a computer using Dokmee or Dokmee Mobile. This is a fantastic combination for people who are constantly on the road or in the field that need to scan documents back to a database in the office.
The release of this new capability of Dokmee Mobile will be accompanied by Office Gemini's release of the Dokmee Capture name and logo for the conference. The signature capture software of the software manufacturer that is currently called Diamond Vision will be debuting the brand name and logo at AIIM Conference 2014. This release will be followed a month later by the official release of Dokmee Capture to the global market, bringing leading edge technology to old and new Office Gemini clients.
About Office Gemini
Office Gemini is an international software manufacturer focused in the document management and document scanning industry. Office Gemini distributes its software products through a vast worldwide network of value-added resellers (VARs). From great software products and implementation assistance to strategic document management and scanning consulting services, Office Gemini is able to provide a wide range of services to End Users and VARs equally. Office Gemini's sales and support specialists are not only experts on internal software products, but are also very knowledgeable about the industry as a whole and can help with complementing software and hardware products. The two flagship products, Dokmee and Diamond Vision, are used by thousands of customers in more than 30 countries and are available in several different languages. For more information on Office Gemini, please visit http://www.officegemini.com/, or for Dokmee product information visit http://www.dokmee.net. For commentary and industry interaction, please visit http://www.dokmee.net/english/blog, https://twitter.com/dokmeesoftware, https://www.facebook.com/dokmeesoftware.
NOTE TO EDITORS: Dokmee® is a registered trademark of Office Gemini in the United States and/or other countries. © 2013 All rights reserved.