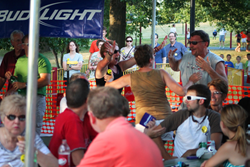 Ferdinand, IN (PRWEB) March 03, 2014
The Kentucky Headhunters are coming to Ferdinand courtesy of Ferdinand Farmers Mutual as part of that company's 150th anniversary celebration. The concert will be a free event thanks to Ferdinand Farmers Mutual. The Ferdinand Heimatfest is scheduled for June 20th and 21st at the town's 18th Street Park with the usual Ferdinand hometown foods, events, contests, and hospitality.
The Kentucky Headhunters are known for their unique blend of country and southern rock with such hits as "Dumas Walker," "Walk Softly on This Heart of Mine," and "Oh Lonesome Me." The group formed in 1968, when the four-member group, originally called Itchy Brother, set out from a farmhouse in Kentucky with a pickup-truck load of amps, drums, and guitars, along with stacks of American and English rock records to conquer the world by creating their own brand of music. The Kentucky Headhunters have released seven studio albums, two compilations, and 20 singles. In addition, the band has won three Country Music Association Awards, an Academy of Country Music Award, and a Grammy Award for Best Country Performance by Duo or Group with Vocal, won in 1990 for Pickin' on Nashville. Current band members include Greg Martin, Doug Phelps, Fred Young, and Richard Young.
The Kentucky Headhunters are coming to Ferdinand courtesy of a company with an even longer history. In 1864, 109 farmers, originally calling themselves the Hoosier Fire Insurance Company, presently Ferdinand Farmers Mutual, set out to protect their property from fire by forming the very first mutual insurance company in the state of Indiana. Now, 150 years later, this progressive, member-owned business wants to celbrate - and everyone is invited!
The Kentucky Headhunter concert promises to be the capstone event of Ferdinand's Heimatfest, slated the year for June 20th and 21st. The 2014 Heimatfest will serve as the prelude to an even older entity, the town of Ferdinand's 175th Birthday in 2015.
More great events are available in this area. For more information and a complete listing of events, visit http://www.visitduboiscounty.com.