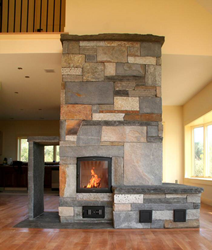 Boston, MA (PRWEB) March 01, 2014
The Masonry Heater Association of North America's past president and current chairman of the Public Relations Committee, Steve Bushway, presented testimony at the U.S. Environmental Protection Agency's (EPA) public hearing on proposed New Source Performance Standards (NSPS). The NSPS proposes to implement standards for wood-burning appliances.
"Before the passage of this proposed standard, the NSPS preamble recognized masonry heaters and exempted them as inherently clean burning devices. A future without EPA Certification however, will limit our ability to continue building our products in some areas of the country, not because of high emissions: as noted, quite the opposite is true, but because jurisdictions will find it to their advantage to simply say 'EPA approved only' when regulating solid fuel appliances," Mr. Bushway stated.
The Masonry Heater Association of North America is pleased to be included in the NSPS because we believe the masonry heater offers a sensible alternative for consumers to heat with a renewable resource in a unique and creative way while reducing or eliminating the heating portion of their carbon footprint.
Mr. Bushway submitted a number of important comments that are critical for the masonry heater industry to meet compliance with this new regulation. They include:

Being able to certify designs for families of units, and license them for others to site build from certified plans.
Clarification as to the meaning of "manufacturer's instructions".
Accepting software programs, for current masonry heaters built in the U.S., as an alternative to certification testing.
Masonry Heaters are known by many names and come in many shapes and sizes. The principle in all is the same: to burn firewood in an oxygen rich environment to achieve complete combustion and to route the exhaust through a series of heat exchange channels. This extracts most of the fire's intense heat into a masonry bio mass before it exits out the chimney. The resulting stored heat saturates the masonry and is released as even warmth over the 24 hours following the fire.
Mark Twain, while traveling through Europe in the 1880's said this about masonry heaters: "All day long and until past midnight all parts of the room will be delightfully warm and comfortable…Its surface is not hot: you can put your hand on it anywhere and not get burnt." He goes on to say, "Consider these things. One the firing is enough for the day: the cost is next to nothing; the heat produced is the same all day, instead of too hot and too cold by turns."
The Masonry Heater Association of North America is a non-profit organization dedicated to serving the interests of the masonry heater industry. Founded in 1987, MHA is an association of builders, manufacturers and retailers of masonry heaters and masonry bake ovens. MHA has established a certification program, an education curriculum, testing and research laboratories and a community outreach program.
To learn more about masonry heaters, masonry bake ovens and pizza ovens please visit the MHA website: http://www.mha-net.org or contact the MHA office at 520-883-0191.