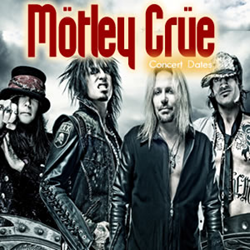 The New York City Motley Crue and Alice Cooper tour date at Madison Square Garden October 28 go on sale for the public to buy today.
New York, NY (PRWEB) March 01, 2014
Motley Crue and Alice Cooper join forces for the final Motley Crue concert tour. As a part of the contractual arrangements made in setting up the shows, Motley Crue will remain legally bound not to perform together as Motley Crue after 2015. Therefore, this Motley Crue Final Tour should truly represent their last shows. With over seventy shows on the performance schedule, all fans should have the opportunity to buy tickets and catch the act one last time. The New York City tour date at Madison Square Garden October 28 go on sale for the public to buy today.
Motley Crue formed in 1981 with Tommy Lee on drums, Nikki Sixx on bass guitar, Mick Mars on lead guitar, and Vince Neil on vocals. From the outset, contemporaries in the California rock scene considered these four disparate characters a motley looking crew; band members quickly adopted the name of Motley Crue. The group shot to stardom with a series of supercharged rock albums including Shout at the Devil, Theatre of Pain, and Girls, Girls, Girls. With the release of Dr Feelgood in 1989, Motley Crue had its first number one album. In an era of decadence, the glam metal band earned a reputation for excess. Dr Feelgood referred to one of the band's drug dealers, while Kickstart My Heart arose after Sixx had an overdose and was brought back to life by two shots of adrenaline to his heart.
Joining Motley Crue on their farewell tour, Alice Cooper promises his own special brand of excess. Born Vincent Furnier, he rose to fame in the 1970's as frontman for a band called Alice Cooper – releasing hit albums like School's Out and Billion Dollar Babies. Adopting the band's name as his own, Furnier went solo in 1975 as Alice Cooper, with the concept album Welcome to My Nightmare. With hits like Only Women Bleed, You and Me, and Poison, he has remained in the spotlight for more than four decades.The Godfather of Shock Rock still thrills audiences with his unique mix of heavy metal, power ballads, and horror film theatrics.
MotleyCrueAndAliceCooper.com in association with Tickets-Cheapest.com operates in the ticket resale market. When looking for tickets to sold out concerts or for premium tickets like floor seats, Tickets-Cheapest.com can prove to be the best bet. Try a comparison including the ticket price as well as services fees; like always, recent tests proved Tickets-Cheapest.com emerged the lowest once again.
Tickets-Cheapest.com can provide tickets for all the other major New York City metro events including all 10 remaining Billy Joel Madison Square Garden concerts and Sting And Paul Simon concerts playing 2 shows along with a Luke Bryan MSG concert. Sports fans may also find New York Rangers, Giants, Jets, Yankees, Mets and Knicks tickets too.
Buy seats now and pay less at MotleyCrueAndAliceCooper.com from TicketsCheapest.com where price surveys prove fans will find seats cost less than other resale sites including ticket prices that beat Stubhub. In addition to a huge inventory of tickets, even after sold out at the box office, find the complete tour schedule for the Motley Crue final tour with special guest Alice Cooper at the site. Buy tickets at MotleyCrueAndAliceCooper.com before the band dissolves forever.
About Financial Firebird, Motley Crue and Alice Cooper and Tickets Cheapest
The site with special software to find the cheap concert tickets online is affiliated with the Financial Firebird Corporation Travel Group. Financial Firebird Corporation, established in 2000 and a proud BBB member, provides unbiased consumer information particularly involving personal unsecured debt or mortgages, software and marketing services. These sites for consumers to buy tickets online operate in the resale market and maintain no relationship with the venues or performers. The resale ticket market allows consumers access to popular events once the box office has sold out or to buy premium seats when the venue no longer offers any inventory. Within the group of these secondary market ticket services the Financial Firebird owned ticket sites offer lower prices than competitors. Find the sites at MotleyCrueAndAliceCooper.com and Tickets-Cheapest.com.